Steven Tyler Demands Trump Stop Using Aerosmith Music at Rallies
By Andrew Magnotta
August 22, 2018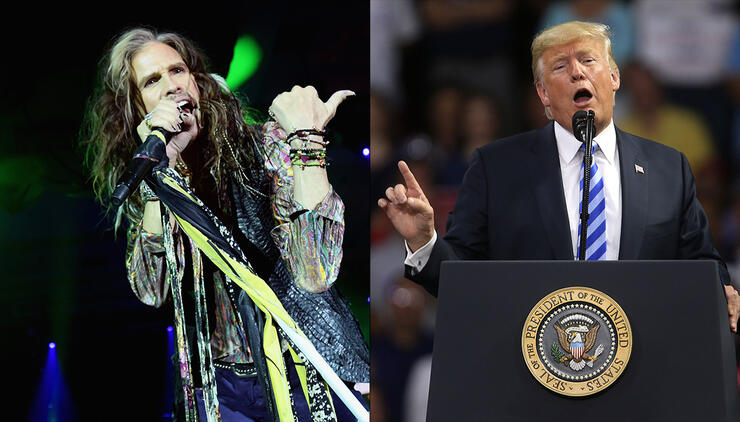 Aerosmith frontman Steven Tyler and his lawyers have sent a cease-and-desist notice to Donald Trump's campaign for re-election, surrounding the President's use of Aerosmith music at his campaign events.
The letter came quickly after people reported that Aerosmith's 1993 hit "Livin' on the Edge" was played while people entered a Trump event at the Charleston Civic Center in West Virginia this past Tuesday, August 21.
Tyler's lawyer Dina LaPolt accused the White House of willful infringement in its use of the song, reports Variety.
LaPolt cited the Lanham Act, which prohibits "any false designation or misleading description or representation of fact...likely to cause confusion...as to the affiliation, connection, or association of such person with another person."
She concludes that Trump playing Aerosmith music at his campaign rallies is akin to claiming a political endorsement from the Rock and Roll Hall of Famers.
The Trump campaign has received numerous cease-and-desists from angry musicians since 2015.
Aerosmith previously took action against the Trump campaign for using "Dream On" at a 2015 campaign event. The band's lawyers wrote at the time that the campaign "needs our client's express written permission in order to use his music"; failure to do so would be a copyright violation.
The Trump campaign was also reportedly sent letters by members of Free for using the band's 1970 hit "All Right Now" during the 2016 Presidential campaign.
Photos: Getty Images
Chat About Steven Tyler Demands Trump Stop Using Aerosmith Music at Rallies