Loretta Lynn's 41st Album 'Wouldn't It Be Great' Arriving September 28
By Paris Close
August 23, 2018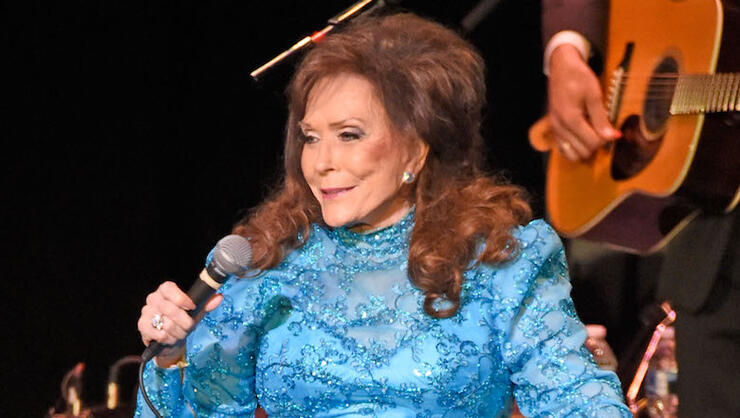 Loretta Lynn is finally ready to share her brand-new album with the world.
The country singer-songwriter spent more than a year in recovery after suffering a stroke at her Tennessee residence in May 2017. During that time, Lynn was preparing to present her forty-first effort, Wouldn't It Be Great, the following August.
Due to the state of her well-being, however, the musician chose to enter a rehabilitation facility after the health scare. Consequently, the 86-year-old was forced to push back the LP's release and cancel her remaining tour dates until she regained strength.
Now, the Queen of Country Music is back to take her seat at the thrown — beginning with the release of her long-delayed studio record.
"This new record means so much to me, but this last year I had to focus on my health and I decided to hold up the release," the entertainer told Nash Country Daily of the 13-track project. "I'm feelin' good and look forward to it comin' out. It was really important to me to be a part of it being released and I'm excited to celebrate with everybody."
Lynn furthered her return by releasing the album's titular lead single on Wednesday (August 22).
The LP drops via Sony Legacy on September 28 and features songs all co-written by the icon herself.
See the official tracklist for Wouldn't It Be Great below:
1. "Wouldn't It Be Great"
2. "Ruby's Stool"
3. "I'm Dying for Someone to Live For"
4. "Another Bridge to Burn"
5. "Ain't No Time to Go"
6. "God Makes No Mistakes"
7. "These Ole Blues"
8. "My Angel Mother"
9. "Don't Come Home a Drinkin'"
10. "The Big Man"
11. "Lulie Vars"
12. "Darkest Day"
13. "Coal Miner's Daughter"
Photo: Getty Images
Chat About Loretta Lynn's 41st Album 'Wouldn't It Be Great' Arriving September 28