Bri Steves: iHeartRadio On The Verge Artist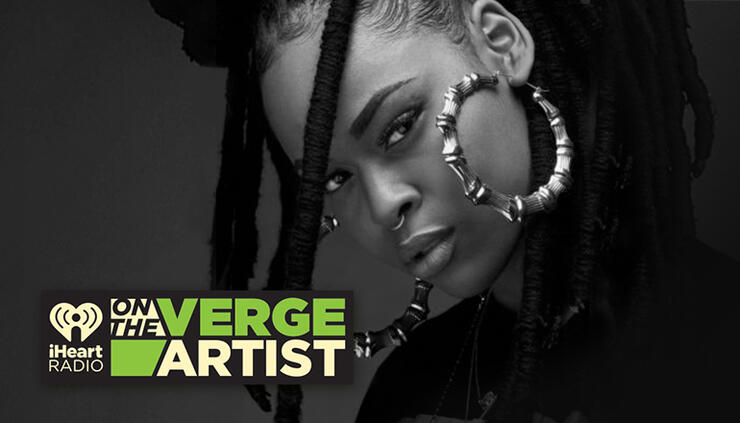 For as much as Philadelphia remains known for historic landmarks such as the Liberty Bell and Independence Hall, it boasts a commensurately revered and recognized artistic legacy.
From Jill Scott and The Roots to Eve and Meek Mill, artists from the "City of Brotherly Love" traffic in the real. They pull no punches. They hold nothing back. They share truth. Bri Steves stands next in a long line of Philly narrators. The East Falls-born rapper, singer, multi-instrumentalist, poet, and producer speaks straight from the heart on her 2018 full-length debut for Atlantic Records.
[CLICK HERE TO BUY "JEALOUSY"]
"Every song is a piece of my life," she affirms. "I was raised by a single mom. My father and I have a very strained relationship. I have a really complicated love life. I've learned many hard lessons. I'm not afraid to talk about painful subjects and topics either. Musically, it's pure energy. It's melody. It's bars. It's vulnerable. It's the aggressive tone you only get from Philly. You'll hear everything in my story."
The story begins in East Falls in Philadelphia. Bri found initial inspiration in her mom's classic records of Marvin Gaye, Faith Evans, Lauryn Hill, and Mary J. Blige before discovering the likes of Foxy Brown, Missy Elliott, Kanye West, Pharrell, The Notorious B.I.G., Drake, and more via YouTube – fusing multiple influences from the classic sounds of Philly and today's hip-hop/R&B artists, Bri started to discover her sound. Relocating to Delaware at ten-years-old, she took up playing the viola, performing in the Delaware Symphony Orchestra through high school, while studying the poetry of her favorite lyricists at home and learning piano by ear. Bri later returned to the City of Brotherly Love to attend Temple University, where she studied public relations. But in any spare moment, Bri studied her true passion; music. She dove headfirst into writing and recording – investing her whole life savings in professional gear, including speakers and headphones – determined to teach herself how to engineer and producer her own tracks.
At the same time, she honed her talents on stage by getting up close and personal in front of a rather tough crowd…
"I used to go down to the subway in Philadelphia and rap and sing for strangers," she recalls. "Singing in the subway every day really made me a fearless performer."
Assuming the opening spot on a Starr Island Music Group showcase in 2016, her powerhouse performance left the audience stunned, and she signed to the company's roster. Gaining early tastemaker support from the likes of Revolt TV, The Fader touted her among "5 Artists Ready to Be Philadelphia's Next Champion." After a competitive bidding war, Bri's charisma, confessional songwriting, and unparalleled ability to spit ultimately landed her a deal with Atlantic Records. Her senior year at Temple would be split between assignments on Blackboard and marathon recording sessions. She recorded in Atlanta, Miami, and Los Angeles; everywhere from The Hit Factory and Circle House to Jungle City Studios and Glenwood alongside Sonny Digital, Boi-1da, and more. Her 2018 debut single with Atlantic Records, "Jealousy," introduced her next chapter.
Produced by T-Minus and Yung Berg, it showcases the scope of her signature style. Tightly wound and clever wordplay gives way to a soulful crescendo powered by dynamic range. Over throwback production and airy keys, her voice soars on the proclamation, "I don't listen to, what them people say, they don't know about, 'bout you and me, put it out your mind, cuz it's jealousy."
"When I wrote the song, I was going through a tough time with my ex," she sighs. "His friends would go through my social media and come to him with all kinds of bullshit. I'm very aggressive, and I say off-the-wall things sometimes. So, they'd get in his ear like, 'Look at what she's saying. Did you see her image? She must not really care about you.' He got caught up in all of this. I'd come back and be ask, 'Why are you so worried?' That's how it came together."
With such honesty, Bri's story will ultimately resound in Philly and far beyond for a long time to come.
"When you listen to me, I hope you take away strength," she leaves off. "A big focus of my music is empowerment for women. I want you to feel strong. That's my dream."
CHECK IT OUT....
Chat About Bri Steves: iHeartRadio On The Verge Artist