Jason Derulo Links Up With David Guetta, Nicki Minaj & More For 'Goodbye'
By James Dinh
August 24, 2018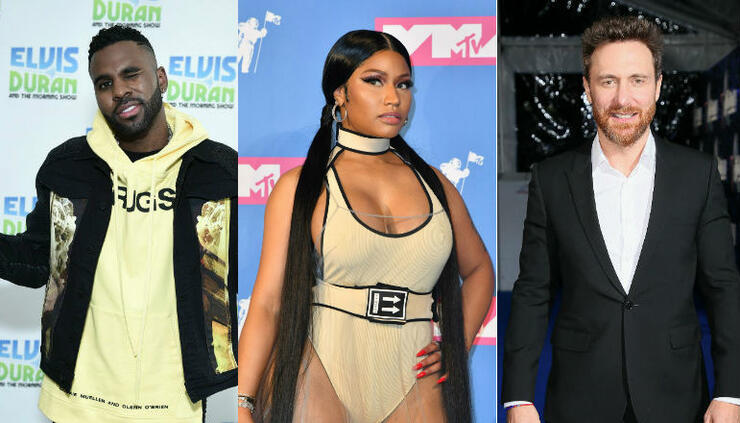 Jason Derulo is back with a new banger called "Goodbye" and it features a number of stars like David Guetta, Nicki Minaj, and Willy William.
Dropping simultaneously with word of Guetta's new album on Thursday (August 23), the island-charged collab samples a page from Andrea Bocelli's classic "Time to Say Goodbye" as Derulo adds a dash of R&B melodies, Minaj spits speedy bars and William unveils a verse in Spanish. Fun fact: Minaj previously collaborated with Derulo and Guetta on "Where Them Girls At," "Light My Body Up," and "Swalla."
Just a day later, Derulo took to Z100's "Elvis Duran and the Morning Show" to promote the new single, admitting that he's working hard to finish up the accompanying LP. "I'm finishing the album up. I'm actually going on tour on starting September 19, so between now and then, I wanna finish it up and then we'll decide when we're gonna be able to release it," he said, adding that "Swalla" and "Tip Toe" will be included on the set. "Everybody has a very busy schedule as you can imagine at that level. It's tough, but it's not like you would imagine. It's still as collaborative. You don't have to be in the same place to be that collaborative."
Meanwhile, in an Instagram post to accompany his album announcement, Guetta described his new LP as a benchmark in his catalog. "In my career, I never wanted to make something that is just credible, I always want to create something INCREDIBLE," he captioned a shot of the album artwork. 'I am so happy and proud to announce my seventh full length studio album '7'! This album is very special to me because it feels like I have entered a new phase in my career. I'm so thankful for all the support from my fans, my team and all the featuring artists. Without you, this album would not be here!! On September 14th it will officially see the daylight. Can't wait!" Expect even more stars on 7, which drops September 14, including the likes of Justin Bieber ("2U"), Sia ("Flames"), G-Eazy, J Balvin, Lil Uzi Vert, Stefflon Don, and more.