Panic At The Disco Reveal Surreal "High Hopes" Video
By Katrina Nattress
August 27, 2018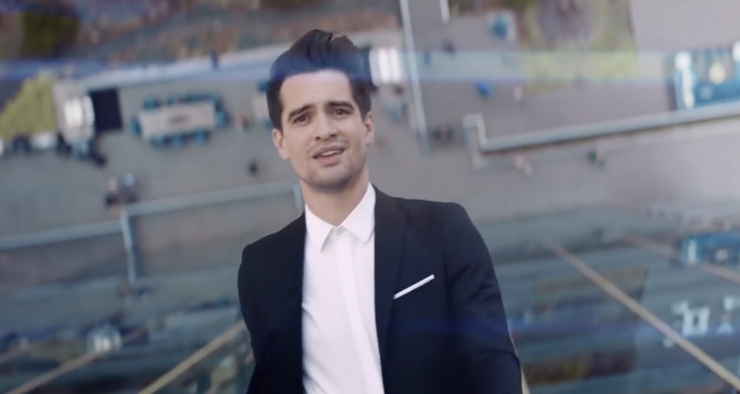 Panic! At The Disco's Brendan Urie took the phrase "high hopes" literally when recording the video for the band's latest single. The clip shows the singer getting out of a luxury Lyft in downtown Los Angeles and confidently walking up the side of a skyscraper while singing "Had to have high high hopes for a living / Didn't know how but I always had a feeling / I was gonna be that one in a million / Always had high high hopes."
Bystanders watch in awe as the singer makes it to the top, mirroring the cover of Panic! At The Disco's latest album, Pray for the Wicked. Urie then joins the rest of his band to finish off the song on a helipad.
"No matter how hard your dreams seem, keep going," the video's YouTube description explains. "You might even have to climb up the side of a building in downtown LA, but it'll all be worth it at the top."
Watch the surreal "High Hopes" video below.
Aside from releasing the new album, Urie also recently launched his Highest Hopes Foundation, which supports "the efforts of non-profit organizations that lead, develop, and advocate support for human rights for all people and communities subject to discrimination or abuse on the basis of gender, race, religion, sexual orientation and gender identity."
The band is gearing up for a world tour that begins in October, but fans can see them in September at this year's iHeartRadio Music Festival in Las Vegas before the official tour kicks off.
Photo: YouTube
Chat About Panic At The Disco Reveal Surreal "High Hopes" Video