Kim Kardashian Responds To Claims She Hooked Up With Drake
By Peyton Blakemore
September 3, 2018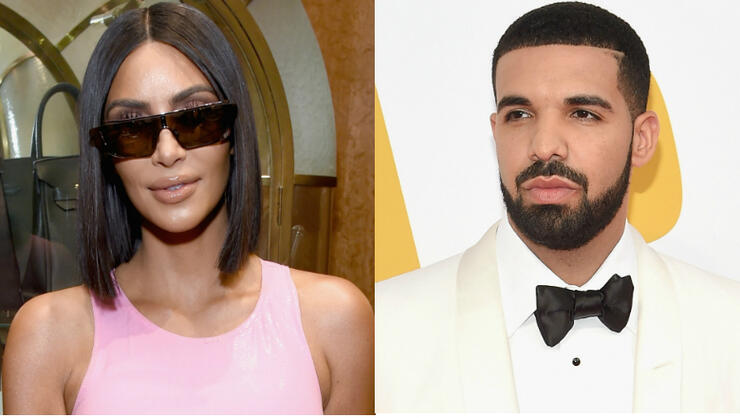 Kim Kardashian would like to be removed from this narrative.
On Monday (September 3), the Keeping Up With the Kardashians star addressed rumors that she hooked up with Drake. "Never happened," she commented on a post about her alleged affair shared by The Shade Room. "End of story."
For those of you who are just now tuning in to the saga that is Drake's feud with Kim's husband, Kanye West, let's break down how this whole Kim-Drake rumor got started.
Earlier this summer, Pusha T dropped a diss track, "Story of Adidon," where he revealed to the world that Drake had a secret son. After its release, many speculated that Kanye was the one who told him about Drake's child. While Drake did not release a response to Pusha's diss track, many claimed that the "God's Plan" rapper got his revenge by shading Ye multiple times on his album, Scorpion.
So, that brings us to Friday (August 31). Speculation about Drake and Kim's possible hook up came after two theories were dropped on the Internet. The first came from Nick Cannon during an interview with Everyday Struggle when he was asked about Drake's feud with Pusha and Kanye
"I think Drake smashed Kim K," host DJ Akademiks said while discussing Kanye's involvement in Drake and Pusha's feud. "That ain't that far off of a concept," Nick replied. "As a fan, stepping back, there's something real personal Drake holds over that whole family, that he's like, 'Ya'll don't want me to let this out.'"
The Kim-Drake hook up theories continued with a fan taking to Twitter to share a detailed thread that claimed Drake has been "telling us for months" in his lyrics that he "slept with Kim K."
On Wednesday (August 29) Kanye appeared on Chicago's 107.5 WGCI Morning Show where he discussed his rumored feud with Drake. While Ye insisted there was "no beef" between him and the "In My Feelings" rapper, he did admit to having a past incident with Drake that involved an angry emoji.
"When we talk about the Drake thing, it hits me in a really sensitive place because you hang around people and they come to your house and be around your family and this and that. And then they get mad about a beat and send you purple demon emojis," Kanye said.
As for if he had had a hand in telling Pusha about Drake's son, Kanye said, "No, I didn't ... Don't pull me into this conversation. I'm 'Ye. I got major things to do other than be telling him some information about Drake … I honestly don't care that much, in all honesty."
Within hours of Ye's interview, Drake posted an Instagram photo that seemed to be a clapback to Ye's comments. He captioned a Polaroid photo of him with an "I couldn't care less" expression on his face with a crying laughing emoji and, of course, a "purple demon emoji."
Photo: Getty Images
Chat About Kim Kardashian Responds To Claims She Hooked Up With Drake