MK Talks New Single 'Back & Forth' With Jonas Blue & Becky Hill
By James Dinh
September 11, 2018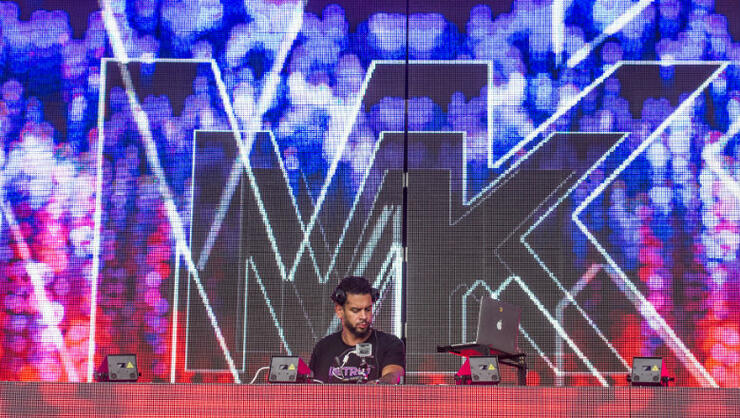 As soon as MK heard Becky Hill's vocal track, the house staple knew that he wanted to make something of it and, in short, that was the birth of his new single, "Back & Forth," which also features Jonas Blue and dropped on Friday (September 7).
As the end of summer approaches, the three-minute track feels like a culmination of summertime wrap-up, with Hill singing about an inconsistent love atop some high-energy production. Days before the release of the track, iHeartRadio sat down with the Detroit hitmaker to take about the new track, his upcoming fall tour with CamelPhat and how he goes about maintaining a healthy headspace while doing all of it. Scroll on below to read our Q&A with the veteran house staple!
Talk to me about the new single, "Back & Forth."
While I'm traveling, Sony sends me a capellas from songwriters. Becky Hill's a girl I did on the last single, "Piece of Me." I also did a remix for Rudimental featuring Becky Hill. So, whenever I see an email with Becky Hill's name on it, it goes to the top of the list. I skip over everyone else. She worked on a vocal with Jonas Blue. I immediately said, 'Let me work on that.' But I was also starting my summer tour, so I'd basically be home for two days, work on it for a couple hours, go on tour, come back home, work on it. It took me four months to work on and we finally nailed it.
Aside from name value, what are you looking for when you're listening to a new a capella?
Anyone who knows me — it's no secret that I'm a vocal guy. I like really good vocals. I'm really particular on the vocals I use. Becky is the one that's really stood out. She has really great melodies, her voice is excellent. I don't like the lyrics that are just generic. I don't like the lyrics that are just like, 'Hey, let's have a good time. Let's have a drink until the sun comes up.' I hear that and I just skip. It's meaningless. When you have someone with that type of voice, that kind of melody, you want it to mean something. Because I know how it is, listening to songs, especially when you're younger, a song with meaning can do a lot for you.
As a businessman, how does a branded tour differ from doing one-off gigs?
I do one every year with some of my favorite DJs, producers. I think last year I did [one with] Shiba San. . . .CamelPhat ... I've been friends with [since the beginning. We speak at least every other day for something. Dave from CamelPhat texted me today, and he's, like, 'Hey, can my friends get on the guest list for your dance party?' At some point, we talk every two days. We see each other a lot. I just knew making this tour with CamelPhat could be fun, more than anything because sometimes I need to have a little fun.
Looking ahead, we're wrapping things up 2018. Where is MK going after the single?
This year, with "17" being out, I didn't expect to be this busy. It's been a lot harder to get the music done. I've had to turn down many remixes that I wanted to do, but I need to find some balance, where I can go on the road and still have my time at home in my studio. Let alone I have my family that I want to spend time with. Still, I want to be home and work on music because there are so many times where I'm literally finishing a song, and Uber's outside, waiting to take me to the airport. That's happened way too many times. I'm like, 'This isn't good.' I don't want to try to rush a song to make a flight. Music is my life. It means more to me than trying to rush it. I'm trying to figure out that balance.
Speak of the chaos, how you manage healthy headspace and good mental health?
It's a work in progress. I'd like to make up a story, and give you some fairytale situation, but look at the Avicii situation. It's not easy. Every time I go out and play, there's tons of temptation; any type you can think of, it's there. Every night, you have to deal with. There's no workaround.
Chat About MK Talks New Single 'Back & Forth' With Jonas Blue & Becky Hill