Cardi B Attacks Nicki Minaj, Throws Shoe at Harper's Bazaar ICONS Party
By Sierra Marquina
September 8, 2018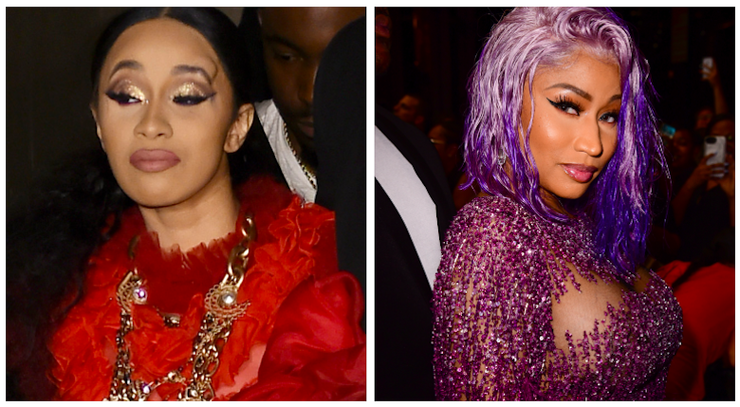 Cardi B reportedly went HAM on Nicki Minaj and her crew at Harper's Bazaar ICONS party in NYC on Friday, September 7. In videos posted to social media and obtained by multiple news sites, the "I Like It" songstress can be seen lunging at the "Bed" singer before security jumps in quickly, resulting in Cardi B taking off a shoe and hurling it at Minaj.
The bash marks the fifth annual #BAZAARICONS party during New York Fashion Week. Kendall Jenner and Bella Hadid, among a bevy of other A-list celebs, walked the carpet shortly before the fight broke out, which occurred as Christina Aguilera was performing.
In video obtained by Cosmopolitan, Cardi can be seen taking off her red platform. Her red gown was also torn in the back, exposing her backside and in photos a massive bump could be seen on the side of her face.
According to The Shade Room, Cardi was then escorted out of the party barefoot while TMZ reports that Nicki remained "cool as a cucumber."
TMZ reports that Cardi attempted to approach Nicki and said "Let me tell you something" prior to being stopped by security and throwing the shoe.
Cardi has since addressed the issue, explaining in a lengthy Instagram that she's "let a lot of s--t slide" and that she seemingly came for Nicki after allegedly being criticized as a mother.
"I addressed you once in person, and every time you copped the plea!! But when you mention my child, you choose to like comments about me as a mother, make comments about my abilities to take care of my daughter is when all bets are f--kin off!!" she wrote in an Instagram of her notes. "I've worked to hard and come too far to let anybody f--k with my success!!!!"
Watch more videos below and see the best reactions:
Chat About Cardi B Attacks Nicki Minaj, Throws Shoe at Harper's Bazaar ICONS Party