Kanye West Premieres NSFW Lil Pump Collab 'I Love It' At The Pornhub Awards
By James Dinh
September 7, 2018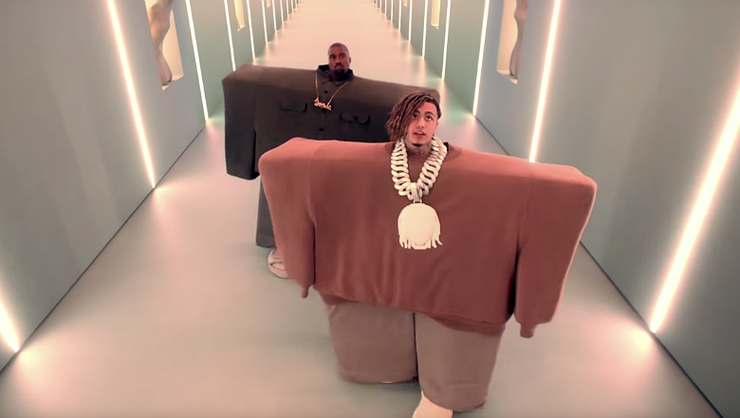 Kanye West and Lil Pump's new collaboration "I Love It" featuring comedian Adele Givens is as dirty as it gets, so it seemingly made sense that the hip-hop titan premiered the new cut at the first annual Pornhub Awards at the Belasco Theatre in Los Angeles on Thursday night (September 6).
After word spread that he would be teaming up with the company to serve as the creative director for the event, West took things a step further when he dropped the new offering. While the NSFW track is filled with sexually explicit lyrics, the music video is a Spike Jonze-executive produced ode to online gaming platform Roblox as the two appear in Yeezy-esque giant, box-like outfits. It was directed by Kanye West and Amanda Adelson. We know. It's a lot to tank in on a Friday morning.
Wondering why West teamed up with Willo Perron to be the co-creative for the show? Well, his mid-August appearance on Jimmy Kimmel Live! saw him share his interest in the adult entertainment website, which prompted the service to offer him a lifetime premium membership. "We want to extend our appreciation to a Mr. @kanyewest for his loyalty to us over the years. A gift in the form of a free lifetime premium membership. Here's to you, Ye," the website tweeted after his appearance. The rest is history.
In addition to premiering the song, West customized the phallic-shaped trophies, individually styled all the presenters, including host Asa Akira, and even tapped Teyana Taylor to perform at the affair.
** WARNING: The following video contains sexually explicit content. **
Chat About Kanye West Premieres NSFW Lil Pump Collab 'I Love It' At The Pornhub Awards