The 1975 Announce New Album Release Date, Tracklist & UK Arena Tour
By Paris Close
September 10, 2018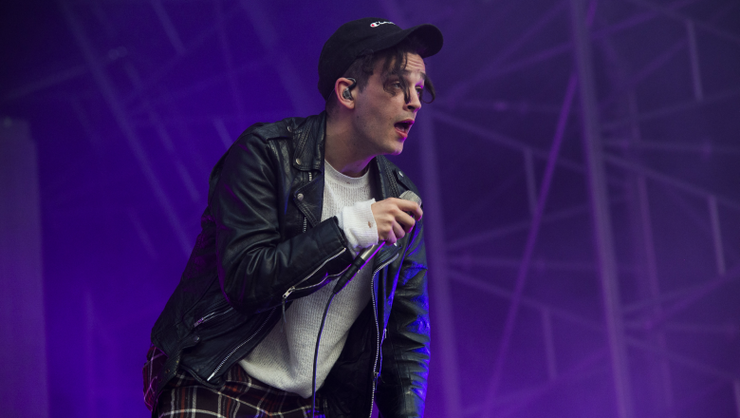 The 1975 have released new details about their brand-new album slated to drop this fall.
On Monday (September 10), the band confirmed their upcoming third full-length, A Brief Inquiry Into Online Relationships, would arrive on November 30.
The 15-track record, which features jams like "Love It If We Made It" and "Give Yourself a Try," is part of the electronic group's layout to release a double-album within what the troupe referred to as the "Music for Cars" era. The 1975's follow-up, Notes on a Conditional Form, is predicted to land in May 2019.
In speaking with Zane Lowe about the English rock band's latest work, frontman Matt Healy said their third record is essentially about "growing up and taking hold of your s**t" but that there are also remnants of sentimentality.
To support the record, the four-piece will embark on a 10-date arena tour in the United Kingdom, kicking off in Belfast SSE Arena on January 9 and concluding at Sheffield FlyDSA Arena on January 25. (Get the dates and pre-order tickets for the tour here.)
See the full tracklist for A Brief Inquiry Into Online Relationships below:
1. "The 1975"
2. "Give Yourself a Try"
3. "TooTimeTooTimeTooTime"
4. "How to Draw / Petrichor"
5. "Love It If We Made It"
6. "Be My Mistake"
7. "Sincerity Is Scary"
8. "I Like America & America Likes Me"
9. "The Man Who Married a Robot / Love Theme"
10. "Inside Your Mind"
11. "It's Not Living If It's Not With You"
12. "Surrounded by Heads and Bodies"
13. "Mine"
14. "I Couldn't Be More in Love"
15. "I Always Wanna Die (Sometimes)"
Photo: Getty Images
Chat About The 1975 Announce New Album Release Date, Tracklist & UK Arena Tour