4 Tips To Keep Your Food Safe During Hurricane Florence
By RJ Johnson - @rickerthewriter
September 13, 2018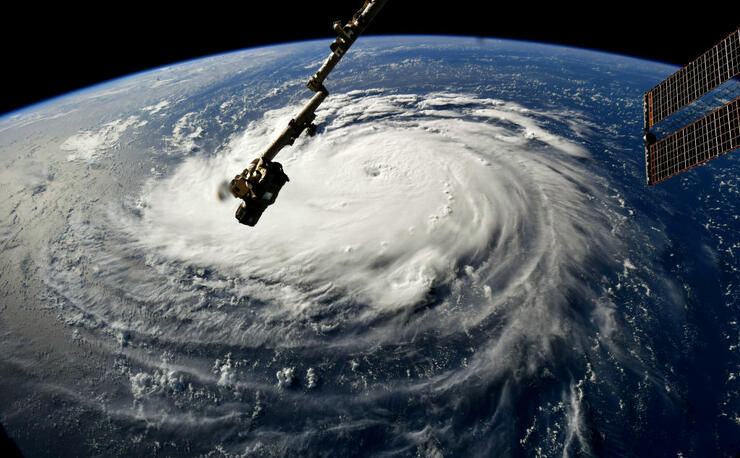 Hurricane Florence is being called the storm of a lifetime. While forecasters say the storm has weakened to Category 2, they are warning that a high risk of "life-threatening" storm surges and flooding remain, with more than 20 inches of rain expected in some areas.
Residents are being urged to take Hurricane Florence seriously and get prepared ahead of time to protect their loved ones.
When a natural disaster like Hurricane Florence strikes, interruptions to food and power supplies can to last days, if not weeks. KFI's Mary-Kate Gaffney gathered some tips to make sure you and your family's food and supplies stay safe and dry during a major disaster like Florence.
You Can Store Food In Your Washing Machine
If you find yourself needing extra storage for all those provisions you bought at the store, your washing machine makes a handy place to keep your stuff cool. Experts recommend packing the food in ice to help keep your food fresh. The ice will drain out of the machine as it melts, saving you that mess. Even more helpful, the metal will help keep the food cold after the ice melts.
Avoid the Large Crowds at Grocery Stores
Avoid the large crowds at grocery stores by shopping at other places that have food, like drugstores, or corner markets.
Disinfect Your Contaminated Water if you Can't Boil Water
If you can't boil your water, the EPA says you can use regular, unscented chlorine bleach. The agency recommends people use 8 drops of 6% bleach (or 6 drops of 8.25% bleach) to disinfect one gallon of water.
Stir and allow the water to stand for 30 minutes. The water should have a slight chlorine odor.
Make sure you ONLY use household, unscented liquid bleach.
Keep in mind, you can also fill your bathtub with water ahead of the storm so you can have something ready to run the toilet. You'll also want to take a shower before the storm hits. The water in the tub will be non-potable, so don't use it to eat or drink.
Stock Up on Non-Perishable Items
Stock up on bottled water, and non-perishable food items that don't need to be refrigerated. Canned beans, mixed nuts and peanut butter are good staples to keep handy in the event of a disaster.
You can get more tips on how to be prepared for a natural disaster here.
Photo: Getty Images
Chat About 4 Tips To Keep Your Food Safe During Hurricane Florence