Teddy Geiger & 'Schitt's Creek' Star Emily Hampshire Are Dating Now
By Paris Close
September 14, 2018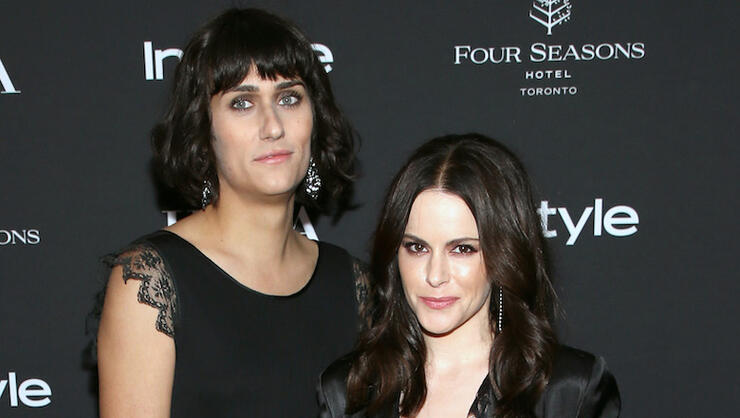 Teddy Geiger and Emily Hampshire are a couple now.
The actress, best known for her part on Schitt's Creek, verified the singer-songwriter is, indeed, her main squeeze.
She said so on social media a few weeks ago, but just in case you missed the (lovable) Instagram official moment… "Just me & my girlfriend. 🎶❤️👯‍♀️🍓@teddygeiger," the 37-year-old captioned a cute pic of them together on August 30, which shows the pair wearing a nerdy chic look as Geiger grasps her GF by the shoulder.
The pair has been playfully quiet about the circumstances of their relationship, but a quick scroll through either of their Instagram feeds will enlighten you that these two are very much in love.
"I am so happy this woman is alive... with the sound of music … She is a song I will sing for a thousand years," the pop star wrote alongside a pastoral pic of Hampshire from the lovebirds' recent trip to Tuscany last month. "She fills my heart with the sound of music … My heart wants to sing every song it hears."
The fresh new relationship marks the 29-year-old musician's first romance in the public eye since coming out as transgender via Instagram in October 2017, revealing she'd began transitioning last fall.
"Okay… because u asked nicely… I am transitioning," Geiger began the heartfelt note. "I started talking about it with a couple of my close friends and family about a month ago and it's given me the courage to start the process ... Love it or hate this is who i have been for a looooong time. I love u guys."
Geiger made her first red carpet appearance back in May at the 66th Annual BMI Pop Awards.
Photo: Getty Images
Chat About Teddy Geiger & 'Schitt's Creek' Star Emily Hampshire Are Dating Now