Here's How Meghan Markle Disguises Herself To Go Out In Public
By Emily Lee
September 17, 2018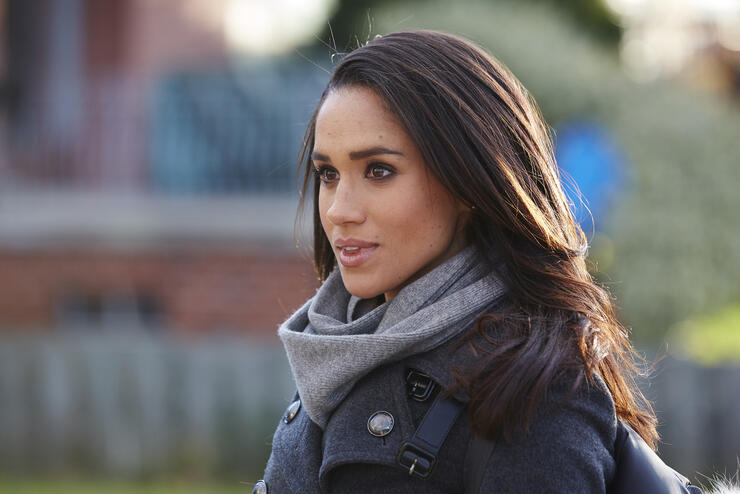 Just because Meghan Markle is a royal now doesn't mean she wants to give up everything from her former life. Despite all the rules she now has to follow as a Duchess, the former actress still likes to venture out on her own to do everyday activities. Meghan is rarely spotted out and about in London, though, so that begs the question: how does one of the most famous women in the world hide in plain sight? The Duchess has a simple yet effective way of disguising herself when she goes out in public.
According got People, Meghan "goes incognito" by simply putting on a baseball cap anytime she "ventures out to Pilates or to get her hair done." Perhaps she took a note out of Captain America's book. Steve Rodgers, played by Chris Evans, often dons just a baseball cap as disguise when he's on the run from the government.
While this hack usually works for the newly minted royal, she was recently spotted outside Kensington Palace walking one of her dogs. She was, of course, wearing a baseball cap in the photo shared on Twitter.
One of the other spots Meghan likes to visit under the radar is her local Whole Foods, which is reportedly just a few minutes away from Kensington Palace. Meghan likes to " quickly sneak in and out without anyone noticing it's her." Anybody who has shopped at Whole Foods know the crowds at popular times can be stressful enough. Imagine the chaos if the Duchess of Sussex was spotted in the produce aisle?
While some people argued the Meghan would be giving up everything to marry Prince Harry, it seems like she's doing a great job of retaining some normalcy and privacy in her new life as a royal. Princess Diana's former body guard Ken Wharf told People that "every single day is in the public eye. To do the things that she used to do in America, those days are long gone. You can argue she has the biggest acting role ahead of her that she ever had in her life." Wharf certainly has a point about the immense amount of surveillance and scrutiny members of the family undergo on a daily basis, but Meghan just might be proving him wrong about being able to carry out normal, every day activities on her own.
Prince Harry and Meghan Markle are gearing up for their first royal tour of Australia, Fiji, Tonga and New Zealand next month. We'll be seeing a lot of the Duchess over the course of the 16-day tour, however, she'll probably leave her baseball caps at home for this one.