Machine Gun Kelly Is Not Impressed With Eminem's Recent Diss: 'He Missed'
By Paris Close
September 17, 2018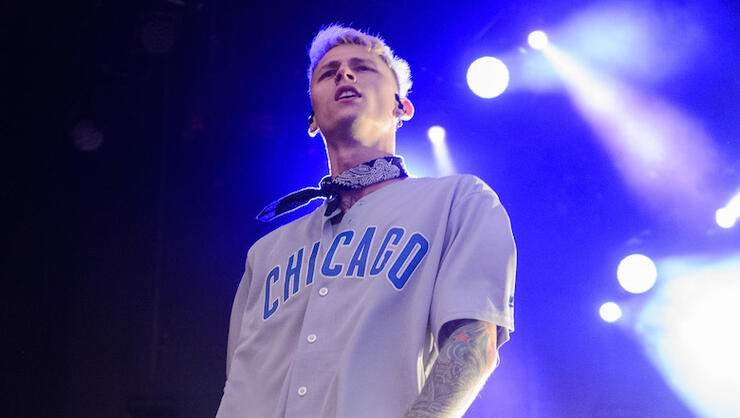 Machine Gun Kelly is unfazed by Eminem's comebacks.
Ever since Em first took aim at the "Wild Boy" rapper on his infuriated record "Not Alike" from his diss-loaded surprise LP Kamikaze, the two emcees have been engaged in a heated game of shade-throwing. In true MC mode, the hot-tempered lyricist jabbed back at the Detroit star with some fighting words of his own on a track called "Rap Devil," a clever play on Shady's 2013 song "Rap God."
"You're sober and bored, huh? (I know)/ About to be 46 years old, dog/ Talkin' 'bout "I'ma call up Trick Trick/ "Man, you sound like a b**ch, b**ch," MGK raps on the heated song before calling out his old age and challenging the 46-year-old to take it outside.
In record time, Em answered the "Bad Things" musician with a charged up track called "Killshot," in which the legendary emcee goes for the jugular. "But I'm 45 and I'm still outselling you/ By 29 I had three albums that had blew/ Now let's talk about somethin' I don't really do/ Go in someone's daughter's mouth stealin' food."
Especially since MGK has issued yet another rejoinder, claiming Em's latest attack failed to hit his target. "He missed," the "Loco" rapper captioned an Instagram pic from his show in Amway Center over the weekend, which shows him chucking the bird — unmistakably at Mathers — and providing receipts that prove his rhyme remains victorious on the charts.
Case in point, this rap beef won't end quietly… or anytime soon.
Will the real victor please stand up?
Or better yet, you decide — listen to both records below:
Chat About Machine Gun Kelly Is Not Impressed With Eminem's Recent Diss: 'He Missed'