Surgeon, Girlfriend Charged With Drugging and Sexually Assaulting Women
By RJ Johnson - @rickerthewriter
September 18, 2018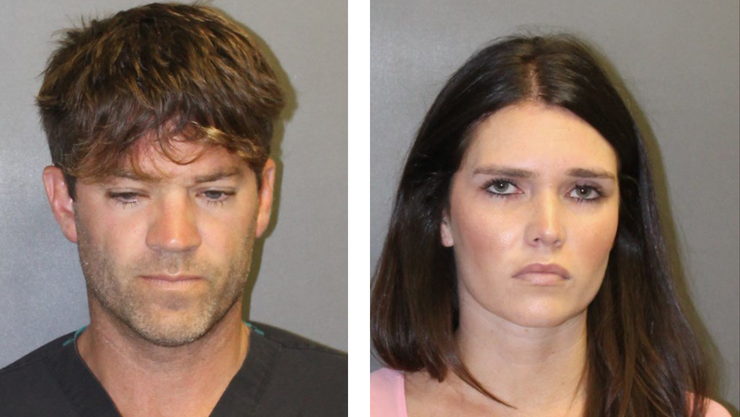 The Orange County District Attorney's Office Tuesday announced Tuesday they had charged a Newport Beach orthopedic surgeon and his girlfriend with drugging and sexually assaulting two women, and prosecutors say they believe there are more victims.
Grant William Robicheaux, 38, of Newport Beach, and his girlfriend, Cerissa Laura Riley, 31, of Brea, have both been charged with rape by use of drugs, oral copulation by a controlled substance, assault with the intent to commit a sex offense, and possession of a controlled substance for sale.
Orange County District Attorney Tony Rackaukas says the man had sex videos on his phone of possibly hundreds of other women who were too intoxicated to say no.
"The second defendant being a female is key," Rackaukas said. "A woman purporting to be his girlfriend clearly played a significant role in disarming the victims and making them feel comfortable and safe."
One woman who met the couple in 2016 told police that Robicheaux and Riley took her to a party and then back to Robicheaux's apartment once she became intoxicated. The second victim told police she became intoxicated at a bar and passed out there in Oct 2016, when she was taken to Robicheaux's apartment and assaulted, the O.C. DA said.
Video of the sex acts on one of the two victims was found on the pair's phone. Prosecutors believe that based on the other videos and photos found on their phones, there could be up to 1,000 other victims.
Rackaukas said the couple would target women at bars in Newport Beach, but may have also traveled out of the area to find their victims. Investigators are asking anyone who may have been assaulted by the couple to come forward.
The OC DA called Robicheaux and Riley two "clean-cut, good-looking people" who used their looks and charm to "prey" on their victims.
"Your conscious decisions to party with these defendants…does not give them a pass to rape, assault or have sex with you once you've passed the point of consent," Rackaukas told the victims during the press conference Tuesday.
The couple have also been accused of possessing large amounts of illegal drugs, that were recovered in Robicheaux's home after police searched it in January 2018. Robicheaux has also been accused of possessing two illegal, unregistered assault rifles, four other firearms, and several large capacity magazines, the release said.
Robicheaux once appeared on a Bravo reality TV series called "Online Dating Rituals of the American Male" in 2014.
Photo: Orange County District Attorney's Office
NOW: #OCDA Tony Rackaukas: Newport Beach surgeon Grant Robicheaux and a female codefendant are accused of rape by use of drugs. OCDA says Robicheaux had sex videos of possibly HUNDREDS of other intoxicated women on his phone. @KFIAM640 pic.twitter.com/4hR4gQyTJi

— Corbin Carson (@CorbinCarson) September 18, 2018
Chat About Surgeon, Girlfriend Charged With Drugging and Sexually Assaulting Women