70,000 Bees Released After Tornado Topples Tree In Virginia
By Bill Galluccio
September 20, 2018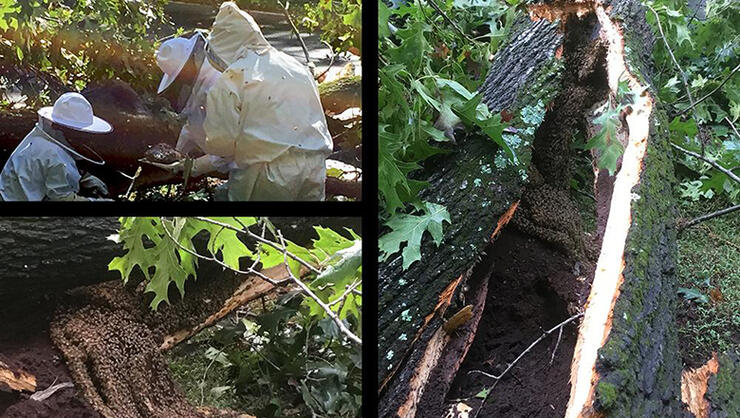 A line of severe thunderstorms spawned multiple tornadoes in Virginia, including one that toppled a tree near the University of Richmond. When a facilities crew from the university went to clean up the tree, they were forced to flee after they discovered around 70,000 bees buzzing around the rotted tree. The crew contacted the school's beekeeper, Kirstin Berben, for help removing the bees.
"The tree was cracked open, and it was a catastrophic situation for the bee colony inside, which I estimate was about 70,000 bees based on the amount of honeycomb," Berben said in a press release from the college.
Berben put on her beekeeper's outfit and got to work collecting the honey bees.
"We started picking up the comb and transferring clusters of bees into a large storage bin," Berben explained. "There was a large cluster that seemed to include the queen, so we focused on that."
Berben then brought the colony to beehives that she maintains at her home, which is six miles from campus.
"If you relocate a colony too close to its original home, the bees may try to return, so I felt it was best to move them off campus for the time being," Berben said.
Berben plans to keep the bees at her house through the winter. If they are healthy, she hopes they can be brought back to the hives on campus in the spring.
Photo: University of Richmond