Belly Reveals Which Artist He Believes Is A "Legend Stage Diver"
By Taylor Fields
September 21, 2018
The 2018 iHeartRadio Music Festival is officially here! Throughout the weekend, music history will once again be made as a star-studded lineup of artists take the stage, and during the day on Saturday, September 22nd, many talented artists and bands will be performing during the Daytime Stage at the iHeartRadio Music Festival, including Belly.
Other artists on the Daytime Stage lineup this year include Logic, Dua Lipa, 5 Seconds of Summer, Lil Uzi Vert, Dustin Lynch, Bazzi, Bobby Bones and The Raging Idiots, Greta Van Fleet, Bad Bunny, grandson, Leon Bridges, MAX, Badflower, Evvie, The Vamps, and Drax Project.
Belly has a new album on the way called Immigrant, and earlier this year, he released several singles, including "4 Days" featuring YG, "Maintain" featuring Nav, and "What You Want" featuring The Weeknd.
Fans will be able to tune in to a live stream of the Daytime Stage at the iHeartRadio Music Festival via HondaStage.com, beginning at 2pm ET/11am PT on September 22nd. Additionally, fans can catch both nights of the iHeartRadio Music Festival live from T-Mobile Arena via CWTV.com and The CW App, as well as a two-night television special on October 7th and October 8th from 8 p.m. to 10 p.m. ET/PT.
We recently caught up with Belly ahead of his set at the Daytime Stage, and asked him about which artists on the lineup he would do various Vegas activities with. Take a look below.
Would do a stage dive with...
"I don't stage dive, man. I'd like to see Lil Uzi stage dive though, I think he's like the legend stage diver."
Would go "all in" with...
"I don't gamble anymore either. I had to kick those days, man. Nah, I'll probably gamble, with like, Dua Lipa 'cause I feel like it [would] look like a Bond movie, you know what I mean? We would just be in there real classy, just putting it all on the line."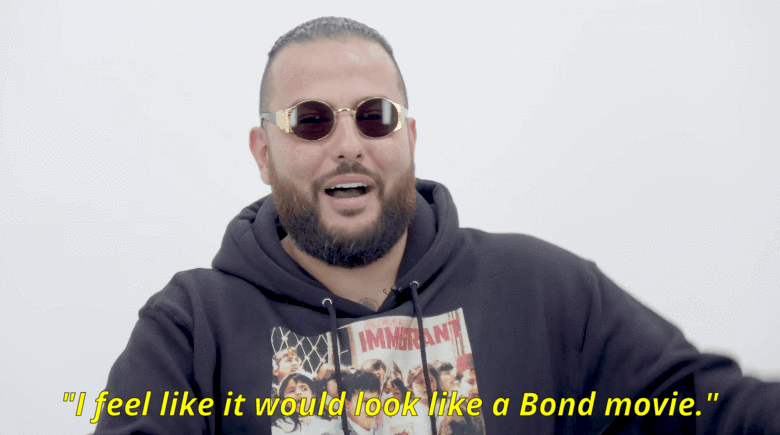 Would collaborate with...
"Bad Bunny. I think he's hard, man. Bad Bunny the hardest. To me, from that whole market he's just definitely the hardest artist out."
Would have the worst hangover with...
"I don't really know. I think Logic looks like he could take down some beers. You know? Logic definitely looks like a beer drinker. If I was to get s***-faced with a beer drinker, it'd be Logic, for sure."
Would get a 2 am lobster dinner with...
"I have to say Uzi again. Shout out to Uzi, yo. You know?"