Brendon Urie Hit All The High Notes At Our 2018 iHeartRadio Music Festival
By Emily Lee
September 22, 2018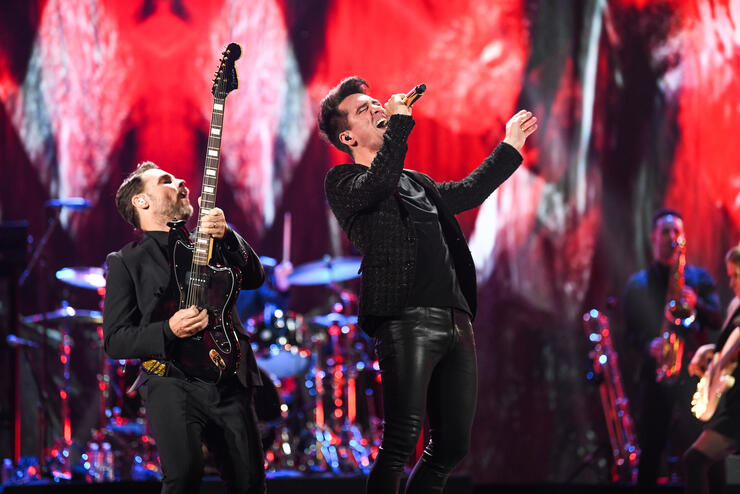 Fourteen years ago, Panic! at the Disco was performing Blink-182 covers out of a garage in suburban Summerlin, Las Vegas. On Friday night (Sept. 21st), frontman Brendan Urie took the stage at our iHeartRadio Music Festival at the T-Mobile arena in his hometown. It was a special night for Urie, who made sure to shout out the city he grew up in.
The performance itself was nothing short of spectacular. Panic! at the Disco played an amazing set that fans won't soon forget. "Good Time" was the opener, followed by "High Hopes," "Saturday Night," "I Write Sins Not Tragedies," and "Victorious." During his set, Urie hit 8 insane high notes that you might not believe a human being could achieve.
Urie closed out his set by telling the audience he was going to hang out with Mariah Carey backstage, which, um, excuse me...can we come, too? Hanging out with the "We Belong Together Singer" isn't the only exciting thing Urie got up to at the show, either. Backstage at our iHeartRadio Music Festival, Urie came face to face with British street magician Julius Dein. It's safe to say that Urie's mind was pretty much blown after Dien accurately guessed the card Urie was picturing in his head. "Get the f**k out of here," Urie exclaimed, tossing the card across the room.
If you missed any of this year's iHeartRadio Music Festival, we've got you covered! Fans can re-live all of the best moments from the unforgettable weekend by tuning into a two-night television special, exclusively on The CW, on October 7th and October 8th from 8 p.m. to 10 p.m. ET/PT.