'When Bad Does Good' Is Chris Cornell's Posthumous Hymnal
By Katrina Nattress
September 21, 2018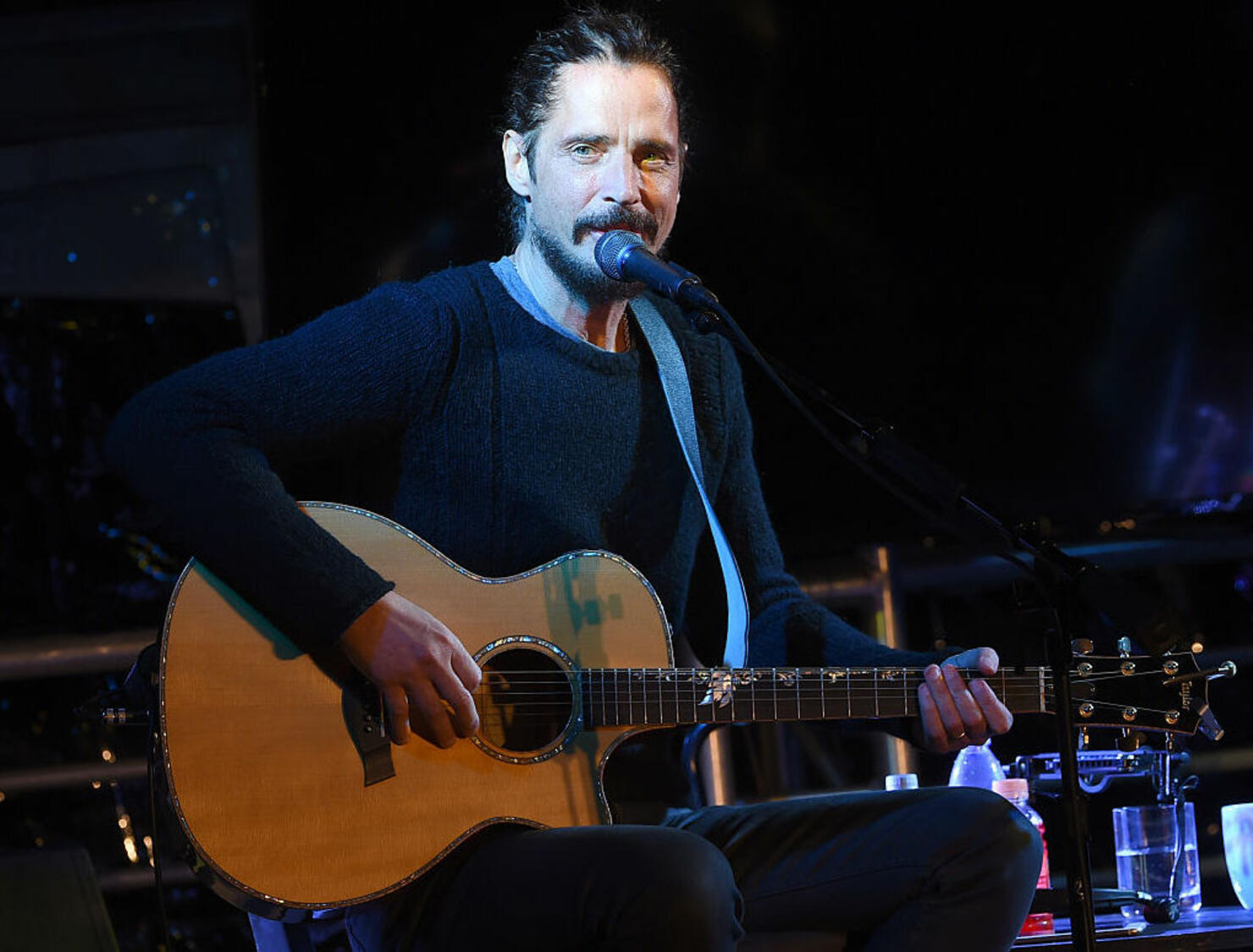 After a week of teasing, Chris Cornell's estate released "When Bad Does Good" on Friday (September 21). The previously unreleased, posthumous song begins with organ sounds and Chris' signature grit as he passionately sings "Standing beside an open grave/ Your faith decided/ Your life erased," the solemn accompaniment giving his lyrics a hymnal feel.
By the time he admits "sometimes bad can do some good" in the chorus, guitars have joined him and a sense of hope is created.
"When Bad Does Good" will be one of 11 previously unreleased songs that will be featured on a new, retrospective self-titled box set that's slated to drop on November 16. Watch the lyric video below.
Chris Cornell will be released in four different versions: a four-disc or double LP set; a super deluxe set, which includes four-discs, seven LPs, a DVD, and liner notes written by members of Pearl Jam, Soundgarden and Audioslave; and a condensed one-disc version. Aside from the previously unreleased material, the collection will also feature songs from all of Chris' past groups (Soundgarden, Audioslave, Temple of the Dog), solo recordings and collaborations with other artists.
"Since Chris' sudden passing I have put all my efforts and energy into sharing his music and legacy with his fans from all over the world," Chris' wife, Vicky, said in a statement. "I felt we needed to create a special collection to represent all of him – the friend, husband and father, the risk taker and innovator, the poet and artist. His soaring vocals found their way into the hearts and souls of so many. His voice was his vision and his words were his peace. This album is for his fans."
Take a look at the Chris Cornell track listings below.
Chris Cornell Single Disc Track List
1. "Loud Love" (Soundgarden)
2. "Outshined" (Soundgarden)
3. "Hunger Strike" (Temple of the Dog)
4. "Seasons"
5. "Black Hole Sun" (Soundgarden)
6. "Can't Change Me"
7. "Like a Stone" (Audioslave)
8. "Be Yourself" (Audioslave)
9. "You Know My Name"
10. "Billie Jean"
11. "Long Gone" (Rock Version)
12. "Call Me a Dog" (Live Acoustic)
13. "Been Away Too Long" (Soundgarden)
14. "Nearly Forgot My Broken Heart"
15. "Nothing Compares 2 U" (Live at Sirius XM) *
16. "The Promise"
17. "When Bad Does Good" *
* Previously unreleased
Chris Cornell Deluxe Edition Track List
Disc One
1. "Hunted Down" (Soundgarden)
2. "Kingdom of Come" (Soundgarden)
3. "Flower" (Soundgarden)
4. "All Your Lies" (Soundgarden)
5. "Loud Love" (Soundgarden)
6. "Hands All Over" (Soundgarden)
7. "Say Hello 2 Heaven" (Temple of the Dog)
8. "Hunger Strike" (Temple of the Dog)
9. "Outshined" (Soundgarden)
10. "Rusty Cage" (Soundgarden)
11. "Seasons"
12. "Hey Baby" (Land Of The New Rising Sun)" (M.A.C.C.)
13. "Black Hole Sun" (Soundgarden)
14. "Spoonman" (Soundgarden)
15. "Dusty" (Soundgarden)
16. "Burden in My Hand" (Soundgarden)
Disc Two
1. "Sunshower"
2. "Sweet Euphoria"
3. "Can't Change Me"
4. "Like a Stone" (Audioslave)
5. "Cochise" (Audioslave)
6. "Be Yourself" (Audioslave)
7. "Doesn't Remind Me" (Audioslave)
8. "Revelations" (Audioslave)
9. "Shape of Things to Come" (Audioslave)
10. "You Know My Name"
11. "Billie Jean"
12. "Long Gone" (Rock Version)
13. "Scream"
14. "Part of Me" (Steve Aoki Remix)1
5. "Ave Maria" (with Eleven)
Disc Three
1. "Promise" (Slash featuring Chris Cornell)
2. "Whole Lotta Love" (Santana featuring Chris Cornell)
3. "Call Me a Dog" (Live Acoustic)
4. "Imagine" (Live Acoustic)
5. "I Am the Highway" (Live Acoustic)
6. "The Keeper"
7. "Been Away Too Long" (Soundgarden)
8. "Live to Rise" (Soundgarden)
9. "Lies" (Gabin with Chris Cornell and Ace)
10. "Misery Chain" (with Joy Williams)
11. "Storm" (Soundgarden)
12. "Nearly Forgot My Broken Heart"
13. "Only These Words"
14. "Our Time in the Universe"
15. "'Til the Sun Comes Back Around"
16. "Stay With Me Baby"
17. "The Promise"
18. "When Bad Does Good" *
Disc Four
1. "Into the Void" (Sealth)" (Live at the Paramount) (Soundgarden)
2. "Mind Riot" (Live at the Paramount) (Soundgarden)
3. "Nothing to Say" (Live in Seattle) (Soundgarden)
4. "Jesus Christ Pose" (Live in Oakland) (Soundgarden)
5. "Show Me How to Live" (Live in Cuba) (Audioslave) *
6. "Wide Awake" (Live in Sweden) *
7. "All Night Thing" (Live in Sweden) *
8. "Nothing Compares 2 U" (Live at Sirius XM) *
9. "One" (Live at Beacon Theatre) *
10. "Reach Down" (Live at the Paramount) (Temple of the Dog) *
11. "Stargazer" (Live at the Paramount) (Temple of the Dog) *
12. "Wild World" (Live at Pantages Theatre) (Yusuf/Cat Stevens with Chris Cornell) *
13. "A Day in The Life" (Live at the Royal Albert Hall) *
14. "Redemption Song" (Live at Beacon Theatre) (with Toni Cornell) *
15. "Thank You" (Live in Sweden)
* Previously unreleased
Chris Cornell Super Deluxe Edition DVD Track List
1. "Flower" (Soundgarden)
2. "Loud Love" (Soundgarden)
3. "Hunger Strike" (Temple of the Dog)
4. "Outshined" (Soundgarden)
5. "Jesus Christ Pose" (Soundgarden)
6. "Black Hole Sun" (Soundgarden)
7. "Fell on Black Days" (Soundgarden)
8. "Burden in My Hand" (Soundgarden)
9. "Can't Change Me"
10. "Preaching the End of the World"
11. "Like a Stone" (Audioslave)
12. "Cochise" (Audioslave)
13. "Show Me How to Live" (Audioslave)
14. "Be Yourself" (Audioslave)
15. "Original Fire" (Audioslave)
16. "Arms Around Your Love"
17. "No Such Thing"
18. "Part of Me" (featuring Timbaland)
19. "Long Gone" (Rock Version)
20. "Scream" (Acoustic) *
21. "Live to Rise" (Soundgarden) *
22. "By Crooked Steps" (Soundgarden)
23. "Nearly Forgot My Broken Heart" (Lyric Video)
24. "The Promise"
* Previously unreleased
Photo: Getty Images