Imagine Dragons Toasts To Las Vegas During 2018 iHeartRadio Music Festival
By Hayden Brooks
September 22, 2018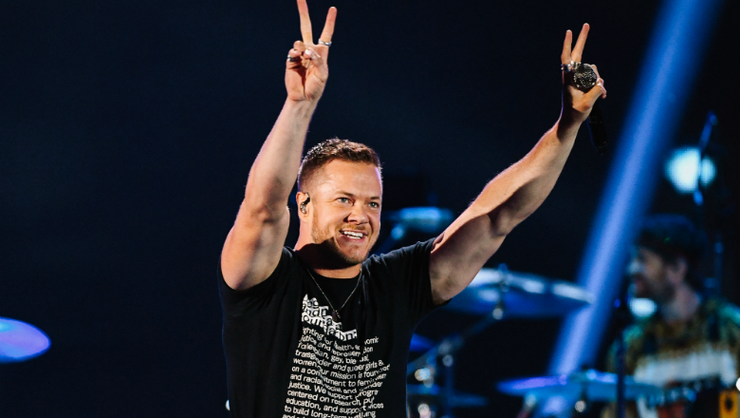 Besides churning out rock anthem after rock anthem throughout their career, Imagine Dragons have always been a band to pack their music and legacy with special messages and their performance at our 2018 iHeartRadio Music Festival was yet another one for the books.
During the 25-minute homecoming set, which went down at Las Vegas' T-Mobile Arena on Saturday (September 23), Dan Reynolds, Wayne Sermon, Ben McKee, and Daniel Platzman jammed out to their catalog classics, including "Radioactive," "Natural" and "Thunder." However, the real highlight from the set arrived when the band proposed a toast to the city of Las Vegas in honor of the victims of the Route 91 Harvest Festival.
"I'll have you know that when the shooting happened here in Las Vegas, we had just played here the night before," Dan explained to the crowd. "We were in Los Angeles. We got off stage and we turned on the television and all of our hearts broke for the city that we love. We immediately got on the phone, called our parents, called our friends to see if everyone was safe. My dear friend was a bartender and was there that night. I can tell you this city means everything to me and this band."
After the tribute, the audience was treated to "Zero," "Whatever It Takes" and their closing track, "Believer," with all the bells and whistles to the flashy set with flames and pyro. Imagine Dragons were one of the many acts to hit the stage during Night 2 of our Sin City affair, including Justin Timberlake, Shawn Mendes, Kelly Clarkson, and many more.
If you missed any of this year's iHeartRadio Music Festival, we've got you covered! Fans can re-live all of the best moments from the unforgettable weekend by tuning into a two-night television special, exclusively on The CW, on October 7th and October 8th from 8 p.m. to 10 p.m. ET/PT.
Chat About Imagine Dragons Toasts To Las Vegas During 2018 iHeartRadio Music Festival