Demi Lovato Seen In Public For The First Time Since Overdose
By Peyton Blakemore
September 24, 2018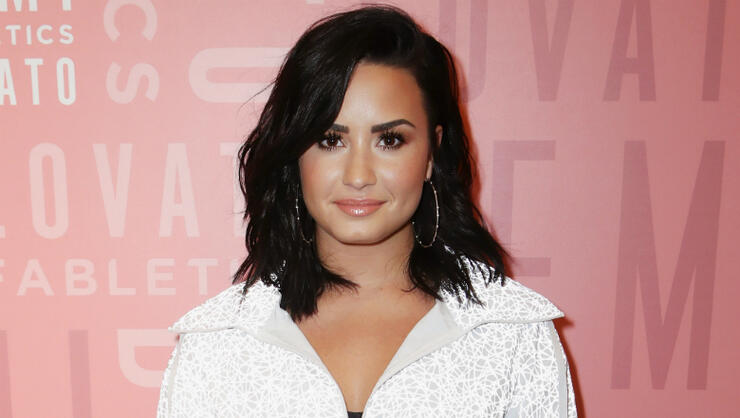 Demi Lovato is looking happy and healthy.
The "Sober" singer was spotted out in public near her rehab facility on Sunday (September 23), the first time she's been seen since her overdose nearly two months ago. In a picture published by TMZ, Demi — who was in a casual outfit (a hat, jeans, and a jacket) — appeared to be smiling as she chatted with a woman walking a dog.
Demi's outing came just one day before the two-month mark of her July overdose. As fans know, the 26-year-old singer was found unconscious by paramedics in her home on July 24. The singer reportedly overdosed after crushing Oxy pills and smoking them. Demi spent 10 days in a hospital before entering a treatment facility.
Just last week, Demi's mom, Dianna De La Garza, opened up for the first time about her daughter's overdose and progress since on NewsMaxTV. "I can honestly say today that she is doing really well. She's happy, she's healthy," she said. "She's working on her sobriety and she's getting the help she needs, and that in itself encourages me about her future and about the future of our family." Dianna also credited "the millions of prayers that went up that day" as the reason her daughter is still alive, saying, "We just didn't know for two days if she was going to make it or not."
See the photo on TMZ.
Before entering rehab, Demi wrote a message to her fans, explaining her next steps. "I have always been transparent about my journey with addiction," she wrote in an Instagram message. "What I've learned is that this illness is not something that disappears or fades with time. It is something I must continue to overcome and have not done yet."
Demi also thanked her fans for their support. "Your positive thoughts and prayers have helped me navigate through this difficult time." She additionally thanked her family, team, and the medical staff at Cedars-Sinai (where she was hospitalized), who "have been at my side this entire time. Without them I wouldn't be here writing this letter to you."
Demi concluded the message by telling her followers that she needs time to heal and focus on her sobriety. Adding, "I look forward to the day where I can say I came out on the other side. I will keep fighting."
If you or someone you know is struggling with substance abuse, contact the Substance Abuse and Mental Health Services Administration (SAMHSA) National Helpline at 1-800-662-HELP (4357).
Photo: Getty Images
Chat About Demi Lovato Seen In Public For The First Time Since Overdose