Justin Moore Donates 30K & Headlines #MSDCOUNTRYSTRONG Benefit Concert
By Lauryn Snapp
September 24, 2018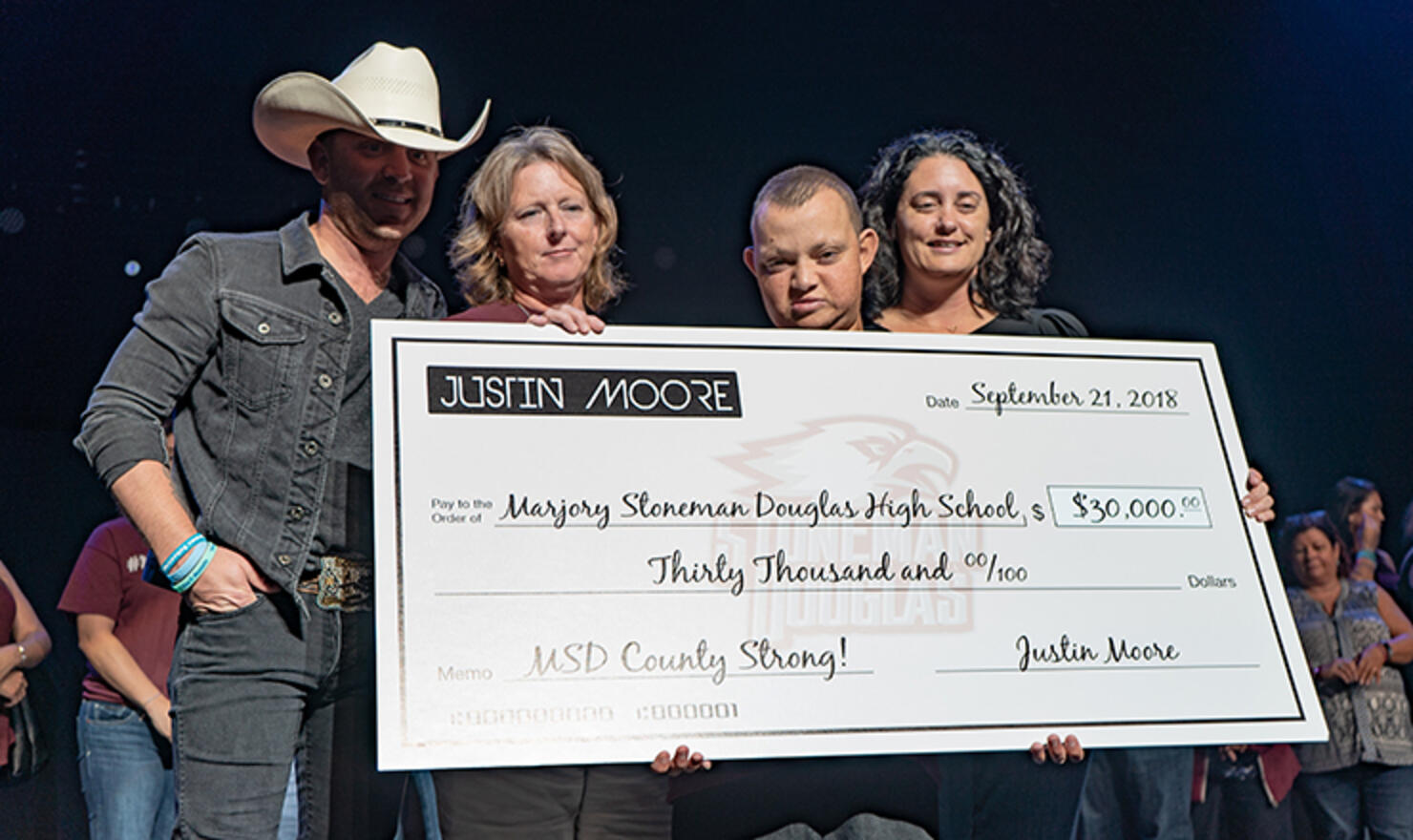 Justin Moore donates $30,000 and headlines the first-ever #MSDCOUNTRYSTRONG concert and live-stream event honoring the heroes, victims, and survivors of gun violence in schools.
The "Small Town USA" singer took to the stage Friday night [Sept. 21st] to make a generous donation and share an emotional moment before performing "If Heaven Wasn't So Far Away" to benefit Marjory Stoneman Douglas High School's (Parkland, FL) MSD Fund.
"I'm of the belief that when God allows you to have a platform like I have, you're supposed to use it for good," says Moore in a press release.
"I'm a father of four. I send each and every one of them to school every day and drop them off. Usually, it's late," he jokes, "but I drop them off each and every day. My first prayer is that they'll come home safe that afternoon. I can't even fathom what these families up here — and maybe some of you guys — have had to deal with and the difficulty this has caused. So sorry for that. I'm not going to pretend to know what that feels like. Just know that from me and my camp that we'll be praying for guys for your continued healing, and we hope and pray that one day, at some point, you'll see your loved ones again."
Moore thanked all servicemen and women, security guards, nurses, policemen, teachers and more, dedicating the track to those who lost their lives. "I've got to be honest," Moore began. "I've done a lot of charity events over the years benefiting so many different things. I'll tell you what. This one has really touched me… having the opportunity here tonight to meet wives and dads and moms, brothers, sisters and sons and daughters. It really is touching, especially me being a father, it effects me."
Catch the latest and greatest from Justin Moore, including tour dates and music at www.justinmooremusic.com.