Lil Xan Was Hospitalized For Eating Too Many Flamin' Hot Cheetos, Seriously
By Peyton Blakemore
September 25, 2018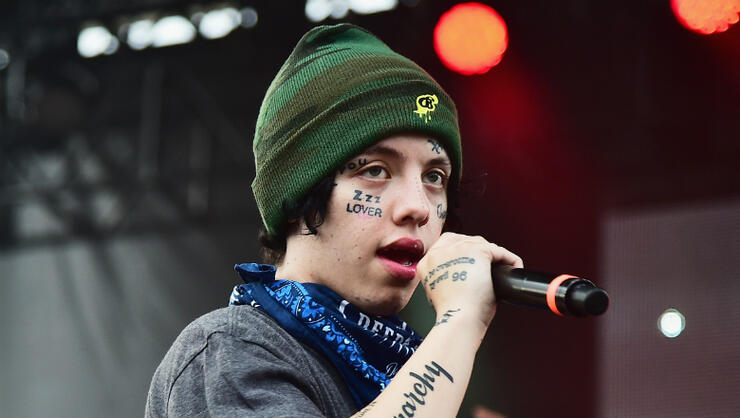 Well, I guess there's a first time for everything.
Lil Xan wound up in the hospital due to his obsession with Flamin' Hot Cheetos. (no joke) "I went to the hospital today," he said on Instagram Monday (September 24). "I just want to let everybody know, I was in the hospital not due to any drugs, but I guess I ate too many hot Cheetos and it ripped something in my stomach open so I puked a little blood."
Xan joked about the experience in his Instagram video's caption, writing, "Just wanna let everyone know that I'm good,healthier then I've ever been and ready to kick of my third Tour in NY ina couple days ! Also be careful,Hot Cheetos are one hell of a drug aha ! 💔 love you all ! 💔"Be Safe" Coming soon !💔💔💔💔." The "Betrayed" rapper also documented his journey to the hospital on his Instagram Story, showing his view from the back of an ambulance.
While Xan's Hot Cheetos experience may seem pretty rare, it's actually not an uncommon occurrence. Back in July, Rene Craghead told WREG that her daughter's gallbladder had to be removed after eating four bags of the chips. "She loves them. Every time I go out she says, 'Bring me back some Hot Takis, bring me back some Hot Chips,'" she said. "She was eating big bags and would take them to school with her." Dr. Cary Cavender at Le Bonheur Children's Hospital also told WREG, "We do see tons of gastritis and ulcer-related stuff due to [hot snacks]."
Chat About Lil Xan Was Hospitalized For Eating Too Many Flamin' Hot Cheetos, Seriously