Meghan Markle Will Not 'Lower Herself' By Meeting With Samantha Markle
By Emily Lee
September 28, 2018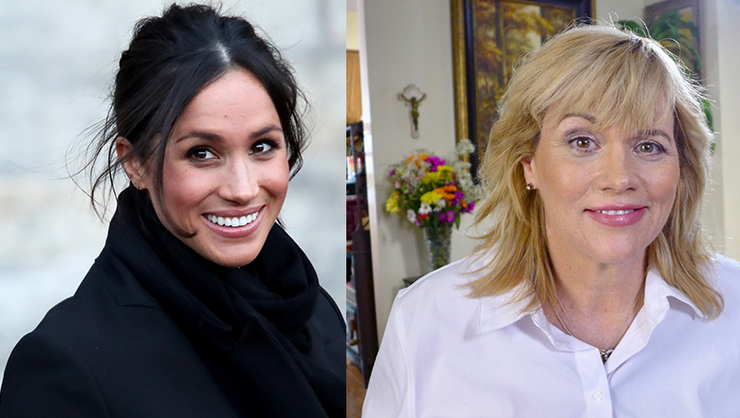 After a summer filled with Markle family drama, it's been quiet for the past few weeks. That grace period is coming to a halt, though, as Meghan Markle's estranged half-sister Samantha Markle has announced she's planning a trip to London. She announced the news via her publicist because, as we all know, the best way to handle to private family matters is through a public statement.
"After making numerous attempts in private to arrange a one on one meeting with The Duchess of Sussex to discuss their 74-year-old father's health, Kensington Palace have refused to respond," Samantha's publicist stated. "I fear Meghan may not be made aware of these discreet attempts and therefore making this public is the only option we have left. I currently have Samantha in Europe with just one short flight away. This DOESN'T need to be public, we would prefer to keep this private. Samantha is coming to the UK this week, like it or not."
The following morning, Samantha shared a short message on Twitter, writing, "Will be there soon." Despite Samantha's warning that she'll be in London soon, it sure doesn't seem like she's going to get a meeting with the Duchess of Sussex. A friend of Meghan's told The Daily Mail that "There is not a chance in hell that Meghan is going to lower herself and meet with her half-sister. Samantha is kidding herself if she thinks there is any possibility of getting together with Meghan, or anyone from the Royal family for that matter."
The friend also added that "Meghan and Samantha are not close in the slightest. They never have been and it's doubtful they ever will be, especially after all of Samantha's name-calling and bullying." This isn't the first time it's been reported that Meghan and Samantha, despite having the same father, have never had much of a relationship. According to Samantha herself, the two haven't spoken since 2014, which is long before Meghan even started dating Prince Harry.
Photo: Getty
Chat About Meghan Markle Will Not 'Lower Herself' By Meeting With Samantha Markle