Hayley Williams Says Each of Her Hair Colors Tells a Story
By Katrina Nattress
October 2, 2018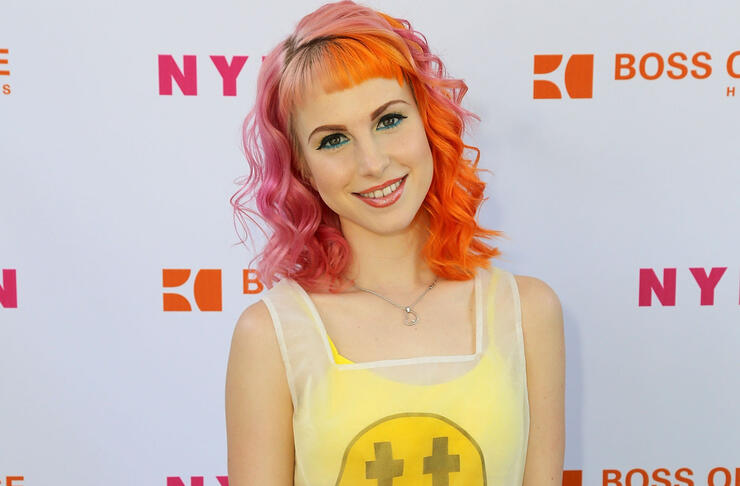 Hayley Williams is known for being the leading lady of Paramore, and she's also known for those colorful locks of hers.
In a recent interview with Evening Standard, the vibrant singer discussed her partnership with hair stylist Brian O'Connor, their independent hair dye brand, Good Dye Young, and what her ever-changing hair color means to her.
"In 2014 we changed my hair eight times in nine months," Williams explained, admitting she often changed her look when she was going through a troubled time. "I was going through so much and in some ways I didn't even know that I was going through all of it."
In 2016, Williams endured a lot of personal hurdles, including a divorce and mental health struggles. As such, she asked O'Connor for a complete makeover.
"I texted him one morning and was like, 'Brian I keep looking in the mirror and I keep seeing this person that I don't know at all. I need to see a new version of myself that I can aspire to or that I can grow into,'" she said.
"She needed a blank slate. Her hair had been a distraction for other people. I was constantly turning it over to distract from other things, or keep people from seeing what was going on," O'Connor confessed. "I don't think even she knew that at the time — nor did I."
For the past two years, Williams has kept her hair consistently blonde — her favorite color to date.
"Now that I've lived out After Laughter and what my hair has come to mean to me during this season of my life, I think I have to say that this has been my favorite," Williams admitted. "Because in spite of people's perceptions, in spite of what may be more sellable, we did what was right for where we were at as friends, and where I was at as a person."
Despite her realization of what all those colors meant to her after the fact, the 29-year-old wouldn't change a thing.
"I love that for every time we've changed my hair there's some story behind it," she said. "Hair is such a story. Even for people who don't do things with their hair, there is still something emotional about it for them. It can be such a deeply personal thing. If we don't give ourselves permission to go there and express, then there's a large part of ourselves we're not getting to know."
Read the full interview here.
Photo: Getty Images
Chat About Hayley Williams Says Each of Her Hair Colors Tells a Story