T.I. Previews 'Dime Trap' At iHeartRadio Album Release Party
By Lauren Crawford
October 3, 2018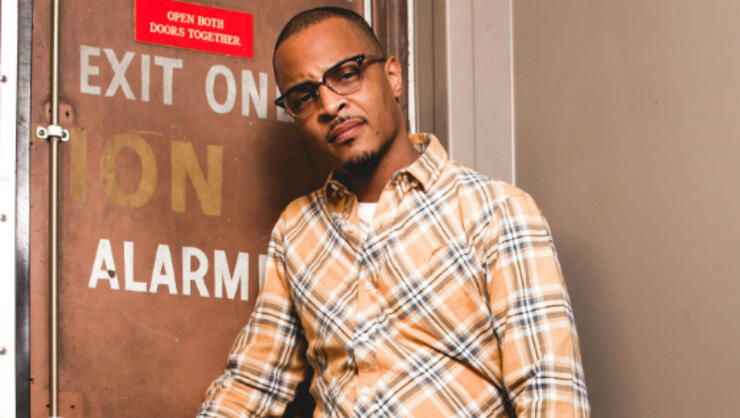 After 17 years in the game, T.I. is ready to release his 10th (and dare I say, most inspired) album yet, Dime Trap.
In honor of the 15th anniversary of trap music, the hip-hop subgenre that launched his career, the Atlanta-born rapper is set to release Dime Trap on Friday (October 5).
On Tuesday (October 2), T.I. gave iHeartRadio a preview of what fans can expect from the 15-track project, which features some of the biggest names in hip-hop. The Grammy-award winning rapper went into his archive of greatest hits, performing everything from "Bring Em Out" to "Live Your Life" to one of his oldest (but greatest) throwbacks "24s." Tip, who recently signed a new deal with Epic Records, additionally performed three new tracks off his upcoming album, including, "Jefe," which features Meek Mill, his latest single, "The Weekend," which features Young Thug, and "Wraith," which features Yo Gotti.
After bringing the house down with his latest hits, T.I. discussed the importance of trap music to "the culture," saying, "Drugs have affected each one of our lives ... and trap music is music that details the lives and lifestyles of people that go through these things. So, that's why trap music is still relevant till this day. I think that's why we need it, to help people get through stuff." Adding, "Hip-hop is the most influential genre of music in the world, and trap music just happens to be the most influential subgenre of hip-hop..."
Tip also opened up about how he got some of the biggest names in the game (Anderson .Paak, YFN Lucci, Young Jeezy, and Victoria Monet, to name a few) to work with him on Dime Trap. "I have personal [relationships] with all [of] them. So it was really simple. Just as easy as picking up the phone and telling them to pull up," he admitted. "We know each other personally and we socialize in the same circles so we find ourselves in the studio late night and there ain't nothing else to do but make great music."
Last month, the "Top Back" rapper announced that Dime Trap is voiced by legendary comedian, Dave Chappelle. While Dave's addition to the album may seem random, Tip admitted that the comedian's feature came about naturally. "Dave's the homie. We always find ourselves in the same city and we have these epic evenings. I'm talking like 6 am to 6 pm kind of 'how did I get home?' [type of] evenings," he explained. "And one of those evenings, I played him like five or six songs and the next day he was like 'those are dope!' And I was like 'let's get together and see what we can do and we can put our heads together and see if you got something to contribute.' The next day he came into the studio and we just kind of brought the mic and started talking."
Even with a resume as decorated as Tip's (he's a 3-time Grammy winner, 11-time Billboard winner, he was recently nominated for a Tony, the list goes on and on), the "No Mediocre" rapper said the sky is still the limit when it comes to his dreams for his career. "I just want to continue to create opportunities, not just for myself but the people around me," he shared. "[I also want to] fulfill my visions, and follow my dreams, just do things that people think are dope."
Watch T.I. perform "The Weekend" live during his iHeartRadio Album Release Party below.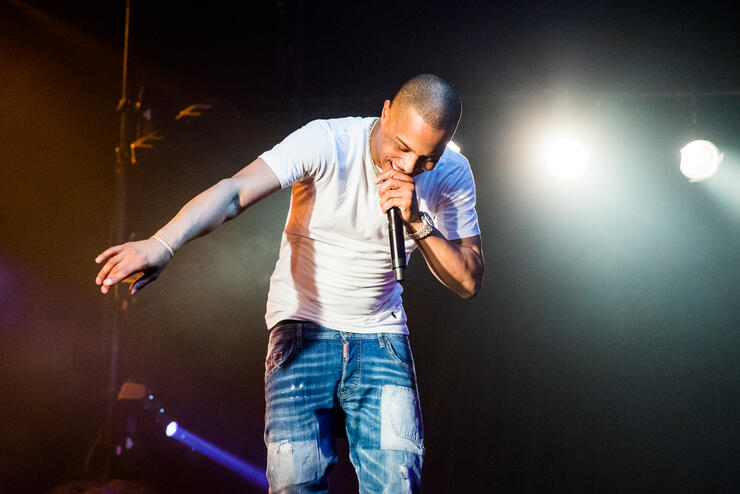 iHeartRadio LIVE with T.I. Set List:
"Bring 'Em Out"
"What You Know"
"Jefe"
"The Weekend"
"Go Get It"
"Whatever You Like"
"Top Back"
"RubberBand"
"Ride with Me"
"24s"
"U Don't Know Me"
"Why You Wanna"
"No Mediocre"
"More & More"
"Wraith"
"Motivation"
"ASAP"
"Swing Ya Rag"
"Big Things Poppin"
"Swagger"
"Still in This"
"Live Your Life"
"About the Money"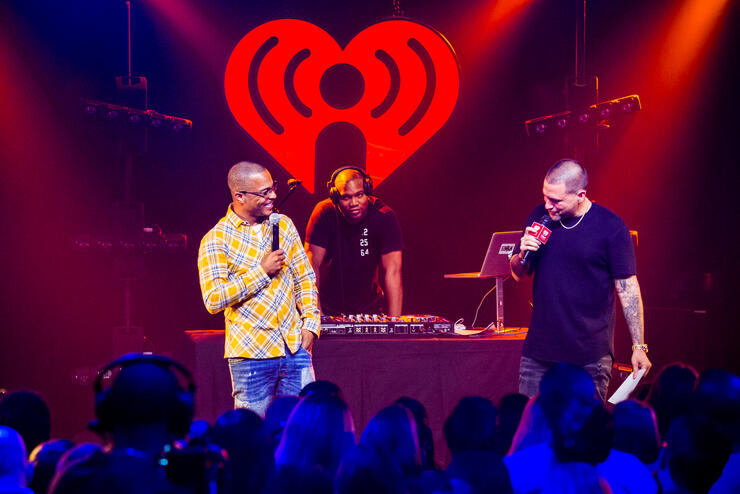 T.I. – Dime Trap Track List
1. "Seasons" (featuring Sam Hook)
2. "Laugh At Em"
3. "Big Ole Drip" (featuring Jesse Of WatchTheDuck)
4. "Wraith" (featuring Yo Gotti)
5. "The Weekend" (featuring Young Thug)
6. "The Amazing Mr. F Up" (featuring Victoria Monet)
7. "At Least I Know" (featuring Anderson .Paak)
8. "What Can I Say"
9. "Jefe" (featuring Meek Mill)
10. "More & More" (featuring Young Jeezy)
11. "Pray for Me" (featuring YFN Lucci)
12. "Lookin Back"
13. "Light Day"
14. "You" (featuring Teyana Taylor)
15. "Be There" (featuring London Jae)
Photos by Rachel Kaplan and Katherine Tyler for iHeartRadio
Chat About T.I. Previews 'Dime Trap' At iHeartRadio Album Release Party