Alicia Keys & Swizz Beatz's Ex-Wife Get Real About Their Blended Family
By Peyton Blakemore
October 4, 2018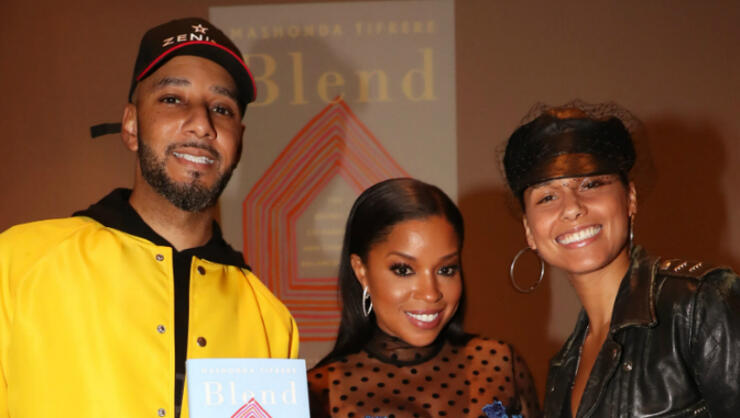 Alicia Keys, her husband Swizz Beatz, and his ex-wife Mashonda Tifrere have mastered the art of maintaining a healthy and happy relationship while being a blended family. However, they'll be the first to tell you, it didn't come easy.
While promoting Mashonda's new book, Blend: The Secret to Co-Parenting and Creating a Balanced Family, the co-parents got real about their journey to becoming one big happy family.
"There was a lot of misunderstandings in the beginning … with our communication," Swizz told Good Morning America's, Michael Strahan. As fans know, Mashonda and Swizz divorced in 2010, and the "On To The Next One" rapper married Alicia only months later. While Mashonda admitted the divorce, and his fast marriage to Alicia, made it almost impossible for her to maintain a healthy relationship with her ex, she said it was seeing how their son Kasseem Jr. was affected by their dysfunctional relationship that was the "wake-up call" she needed.
"He had some issues in school … he wanted to know why I couldn't go see him at his dad's, and why can't his dad come over and see his bedroom at our house," she recalled before saying how that was all it took for her to know that they had to "do better." "Even if we don't want to for ourselves right now, we have to do it for him, cause he doesn't deserve this," she added.
So, they all decided to make a change, and eight years later, Alica said: "Our family's one big beautiful family." Adding, "We love each other. I mean, we hang out with each other. We go to dinner together. We're doing Thanksgiving, we're doing the holidays....It is a beautiful partnership. And that is really, really special. I'm very, very proud of that."
Mashonda details their road to blended family bliss in her new book, Blend, which Swizz was a fan of from day one. "When she came with the idea, I was like, 'Wow.'" Swizz said before adding he hopes the book will help others who are going through what they went through come out on the other side just as happy as they are. It could help "a whole lot of families," he explained.
Chat About Alicia Keys & Swizz Beatz's Ex-Wife Get Real About Their Blended Family