Kenan Thompson Says Kanye West Held 'SNL' Cast 'Hostage' During Trump Rant
By Peyton Blakemore
October 4, 2018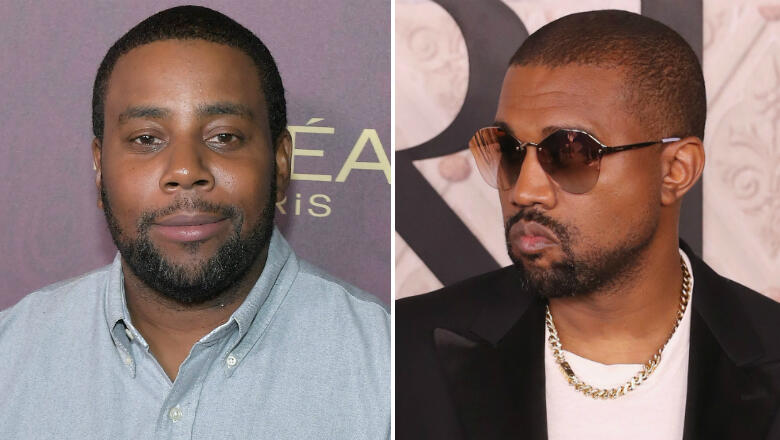 Kenan Thompson did not mince words when discussing his thoughts on Kanye West's pro-Trump rant that went down on Saturday Night Live last week.
While on Late Night with Seth Myers on Tuesday (October 2), the Emmy award-winning SNL star revealed what it was like being present for what Seth Myers called the "Kanye West-led circus."
"I enjoyed watching the [show]... I did my part in the monologue and I got to watch the circus unfold," Kenan said before getting into Ye's unaired political speech, which he gave after asking the SNL cast back onstage, behind him. "He voiced his opinion very loudly, for a long time," Kenan explained. "We're all entitled to our opinion. I don't know if that's the moment necessarily to hold people hostage like that, but hey..."
As previously reported, Ye was booed while onstage after he went on a pro-Trump rant as the closing credits rolled on SNL's season 44 premiere. While the full moment wasn't caught by SNL cameras, audience members shared videotaped footage of the rant to social media, and let's just say, the SNL cast looked like they wanted to be literally anywhere else rather than onstage with Ye.
When the SNL comedian was asked if he was there to see the moment go down in person, Kenan explained that he "had departed," but had the pleasure of watching it go down on TV later on. "As soon as [Kanye] said 'hey join me up on stage everybody' I was like there goes the little cheese in the mousetrap. It's going down," Kenan joked. "I felt so bad for those guys because it's hard to stand there and not be able to debate somebody who's going so far against your personal opinion and [have] to just stand there and take it."
Seth, who previously starred on SNL, added that "at SNL you try to make [guests and hosts comfortable," which Kenan absolutely agreed with. "We're fair. We're in a service business," he said. "We just to cater to the host and make sure they have a good show and what not. When musical guests come in and they're a little bit crazy — maybe they're a little bit crazy— we let them have that. But we don't judge. We're not there to judge."
During Ye's rant, he called out "liberals" who have attacked him for supporting Donald Trump. "It's so many times that I talk to a white person about this, and they say, 'How could you support Trump? He's racist.' Well if I was concerned about racism, I would have moved out of America a long time ago. We don't just make our decisions off of racism. I'ma break it down to you right now: If someone inspires me and I connect with them, I don't have to believe in all they policies.," he said while wearing a Make America Great Again hat. "You see they laughing at me. You heard 'em, they scream at me, they bully me. They bullied me backstage they said, 'Don't go out there with that hat on.' They bullied me backstage. They bullied me. And then they say I'm in a sunken place. You want to see the sunken place? Okay, I'ma listen to y'all now."
He then removed his MAGA hat before putting it right back on, saying, "Or I'ma put my Superman cape on, which means you can't tell me what to do. Follow your heart and stop following your mind. That's how we're controlled. That how we're programmed. If you want the world to move forward, try love."
A source later told People: "No one bullied him about wearing the MAGA hat. He wore it in promos and all week before the show even aired and was asking everyone if they thought he should wear the hat, interns, anyone walking by who would listen."
Photo: Getty Images
Chat About Kenan Thompson Says Kanye West Held 'SNL' Cast 'Hostage' During Trump Rant