Tom Morello's New Album Will Feature a Tribute to Chris Cornell
By Katrina Nattress
October 4, 2018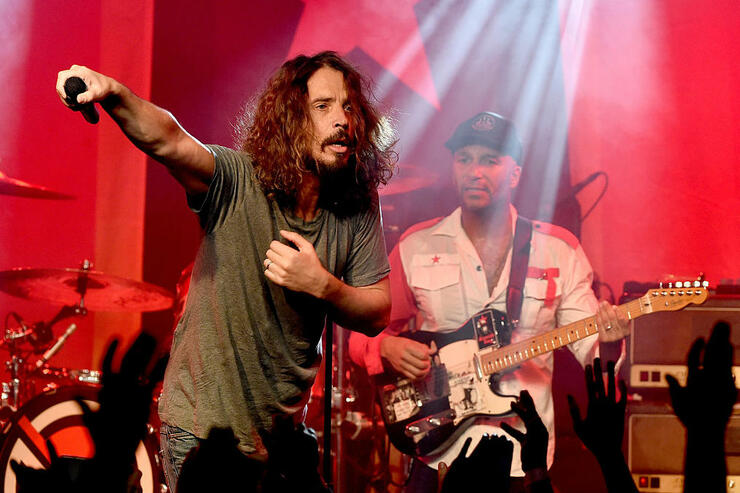 Tom Morello recently announced The Atlas Underground. The innovative solo album finds the veteran collaborating with a star-studded cast of hip-hop, EDM, and rock heavyweights including Killer Mike, Big Boi, RZA, GZA, Bassnectar, Portugal. The Man, Gary Clark Jr., Steve Aoki, and more. During a recent interview with The Chicago Tribune, Morello got more in depth about his inspiration for the album, and divulged a special song on the record.
"For the song 'Every Step That I Take' with Portugal. The Man and Whethan, a teenage EDM marvel, we're partnering with an organization called SAVE (Suicide Awareness Voices of Education), focusing on suicide prevention, information and depression awareness," he explained. "With the passing of Chris [Cornell] over a year ago, and the momentum towards removing the stigma from mental health issues and suicidal thoughts, it was very important to have a song from that point of view."
Morello and Cornell were band mates in the supergroup Audioslave.
"I've had mental illness issues in my family and among my friends in the past, and there's a current trend toward this demystification to encourage people, among your friends, loved ones and professionals, there is help and there are ways," he continued. "You know, you break your arm — it's not a stigma to go to the hospital to get it set. Hopefully we're able to start looking at suicidal thoughts and depression in the same way that can materially save lives. 'Every Step That I Take' is about how the dreams, and depression, and love and the lack of it on the emotional steps of the gallows are processed. It was a song written by myself and Matt Shultz from Cage the Elephant and Johnny (Gourley) from Portugal.The Man sings it and it's just a beautiful song. One of my favorites on the record."
The Atlas Underground is slated for an October 12 release.
Photo: Getty Images
Chat About Tom Morello's New Album Will Feature a Tribute to Chris Cornell