Tony Iommi May Be About to Start Recording a Solo Album
By Andrew Magnotta
October 4, 2018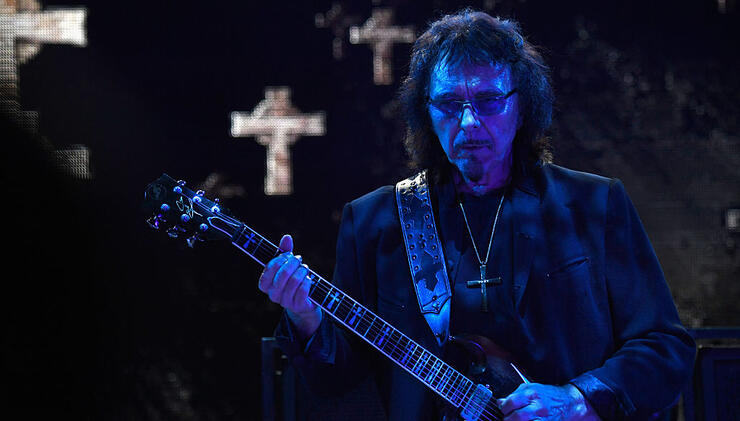 Black Sabbath guitarist Tony Iommi might not seem like a fun-in-the-sun type of guy, but just like anyone else, he feels guilty staying inside during nice weather.
If this wasn't always the case, surely beating cancer might have made Iommi more inclined to savor the summer.
So fans wondering on the status of Iommi's long-teased post-Black Sabbath project may have a more solid update or more tantalizing clues coming soon. In mid-August, the legendary heavy metal axman said his plan was to begin recording as soon as the England's lousy weather returns to his estate.
By that logic, he could already be at work!
"I'm still putting stuff together," he said at a screening of The End of The End this summer. "I'm still writing stuff; I've put ideas down on tapes. When all this nice, sunny weather goes and it gets grim, I shall start going in the studio and putting it down."
Iommi suggested that he might have started recording last fall, but his engineer, Mike Exeter, was tied up recording Judas Priest's acclaimed 18th studio album, Firepower.
"Now he's finished that, and we'll hopefully start again and put some ideas down."
The guitarist added that he was still unsure whether the new album would be instrumental, if he would enlist a pack of guest vocalists or if he would put a band together.
Food for thought: he's said in the past that he wants to record with Rob Halford before closing the book on his music career.
Halford and Judas Priest have a few weeks off this month before resuming their Firepower world tour in late October.
Photo: Getty Images
Chat About Tony Iommi May Be About to Start Recording a Solo Album