Slash Names Axl Rose One of His Favorite Singers of All-Time
By Andrew Magnotta
October 5, 2018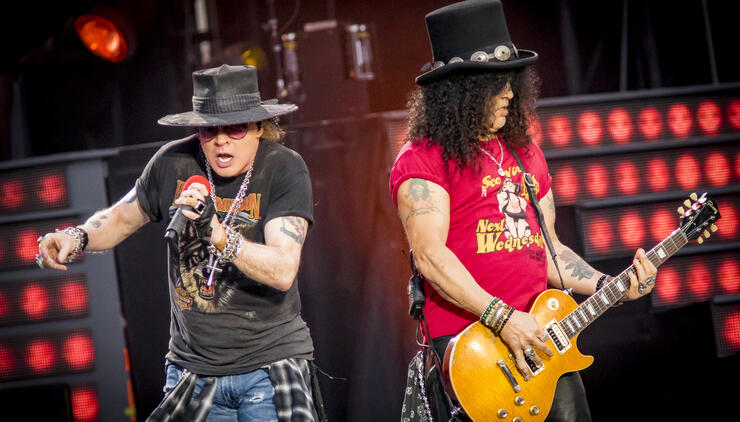 In case we needed any more proof that all is forgiven between Slash and Axl Rose, the Guns N' Roses guitarist recently counted his front man as one of the greatest to ever do it.
Slash has been effusive in his praise of Rose during the band's Not in This Lifetime world tour, but in a new interview with Forbes Magazine, he compared Rose to some of his favorite singers of all-time.
"I'd have to give it to Mick Jagger and James Brown, and I know they're very much related, but both those guys were so committed," Slash said when asked to single out his favorite front man.
" And then [Michael Jackson]," he added, before continuing. "Axl is one of the best frontmen of all-time too. They're so committed to the show and so aware of how important that dynamic is."
This summer, Slash told Q104.3 New York's Out of the Box with Jonathan Clarke that he was amazed by Rose's ability to pull double-duty touring with both the partially reunited version of Guns N' Roses and filling in on vocals for AC/DC.
"When he took off to do AC/DC, I went to one of those shows and it was phenomenal," says the guitarist. "But one of the first things he said was he had a way of [singing AC/DC] where it wasn't taxing on his voice. I was in awe the whole time."
Slash has been making the rounds over the past couple of months, promoting his new album, Living the Dream, with his solo band, featuring Myles Kennedy and the Conspirators.
The guitarist and his band are on tour through October 16, when he'll return to tour Asia with Guns N' Roses.
The Living the Dream tour then resumes in Europe in February. Get all Slash's tour dates here.
Get all the remaining Guns N' Roses Not in This Lifetime world tour dates here.
Photo: Getty Images
Chat About Slash Names Axl Rose One of His Favorite Singers of All-Time