Dakota Johnson's Rep Denies She Is Pregnant With Chris Martin's Child
By Hayden Brooks
October 8, 2018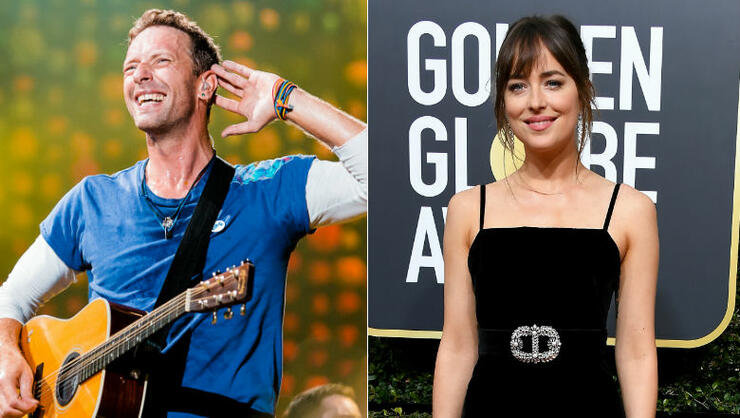 Update: After TMZ's report went viral, a rep for the actress told PEOPLE that she is not pregnant with the singer's baby. The rep specified that the celebration was in honor of her birthday, which went down on October 4.
Coldplay's Chris Martin and Dakota Johnson are reportedly having a baby together, as per a new report from TMZ.
According to the celebrity gossip outlet, Martin and Johnson, who have been dating for about a year, hosted a weekend gender reveal party on Sunday and footage from the event seem to hint at the sex of the baby. Not only were blue and pink balloons tied down to the grounds, but there were plenty of stars in attendance, including her parents Melanie Griffith and Don Johnson, as well as Sean Penn and Julia Roberts. In regards to the sex of the baby, it seems like the couple is expecting a baby boy. About 10 minutes after Don arrived at the affair, a string of blue balloons was released into the sky, suggesting that the couple is adding a mini-Chris to the family.
Interestingly enough, the news arrives one week after his former flame, Gwyneth Paltrow, tied the knot to Brad Falchuk. Chris wasn't in attendance of the wedding because he was in New York City for his set at the Global Citizen Festival, which also saw an appearance from Dakota, who was covered up in an oversized ensemble.
Martin and Johnson's news might come as a surprise, considering that the pair has kept their romance on the extreme DL. Back in May, Griffith, accidentally confirmed their relationship during her appearance at the Global Gift Foundation USA Women's Empowerment Luncheon. When asked what she thought of Johnson's relationship with the chart-topper, she said: "I adore him!" Knowing that her enthusiasm might have been a little much, she added, "But she is very private about her life, and I respect that."
Chat About Dakota Johnson's Rep Denies She Is Pregnant With Chris Martin's Child