Drake & Migos Cancel Three More Tour Dates
By Peyton Blakemore
October 8, 2018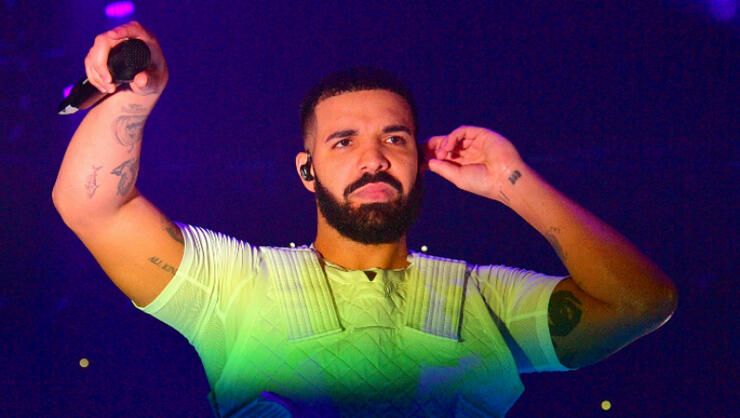 Another three bite the dust.
Drake and Migos have canceled another round of "Aubrey and The Three Migos Tour" dates. According to Billboard, the "Walk It Talk It" rappers pulled the plug on their Denver, Salt Lake City, and St. Paul concerts. Both the Denver and Salt Lake City shows had been previously postponed, while the St. Paul date was pushed back two times before. While an official reasoning for the show cancellations has not been released, a separate report from HotNewHipHop said a spokesperson for the tour cited "quality assurance" as the primary reason.
The nixing of the three tour dates now marks the umpteenth time the Aubrey and The Three Migos Tour has hit a bump in the road. Last month, Drake apologized to fans after having to reschedule both of his Miami tour dates after he fell ill hours before the show. "I just wanted to say how sorry I am about those two Miami shows," he explained to fans via Instagram Stories. "I got so ill so fast and I had never experienced anything like that in my life. Unlike other show cancellations or date adjustments due to production issues this one fell on me and I just want to apologize because I hate letting down anyone who come to share these moments with us."
As Drake mentioned in his apology, multiple "Aubrey and The Three Migos Tour" dates have previously been canceled/rescheduled due to production issues. In August, just hours ahead of their Kansas City concert, the venue tweeted, "Due to production issues, Aubrey and The Three Migos Tour is postponing the Kansas City date. Tonight's show at Sprint Center is rescheduled for Sunday, August. 12. All tickets will be honored for the new date." Since that show had to be pushed back by two days, Drake and Migos' next show in St. Paul was initially postponed, however, now that show has been completely scrapped.
The first tour delay occurred in July when the tour, which was originally slated to begin on July 26, was pushed to August 10 to ensure the tour was up to fans' standards. "In order to deliver the high standard tour experience our fans expect and deserve, we have made the necessary decision to slightly adjust the beginning of the Aubrey and the Three Migos tour schedule," a Drake spokesperson explained at the time.
There are 18 remaining "Aubrey and The Three Migos Tour" dates.
Photo: Getty Images
Chat About Drake & Migos Cancel Three More Tour Dates