Shawn Mendes' 'Treat You Better' Gets The Classroom Instruments Treatment
By Hayden Brooks
October 8, 2018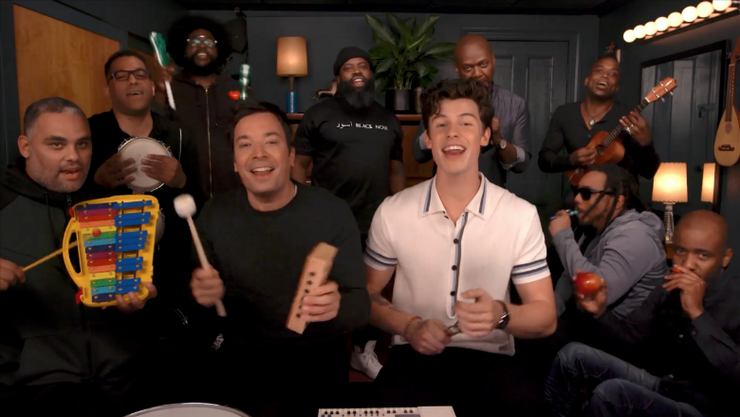 Shawn Mendes performed his mega-hit, "Treat You Better," for The Tonight Show audience in a way like no other — using classroom instruments. On Monday (October 8), E! News published an exclusive clip of the upcoming performance alongside host Jimmy Fallon and The Roots ahead of its evening premiere and it's the perfect teaser for the Mendes Army.
In the 23-second clip, viewers see the Canadian pop star surrounded by the collaborators as they churn out the new rendition of his 2016 smash in a small room. The new version of the song seems to be a little too much for the singer to take in as he almost bursts out with laughter towards the end of the hook. Expect the full performance of the track to air during tonight's episode of the late-night talk show, which broadcasts at 11:35 PM on NBC.
In related news, beauty vlogger James Charles recently apologized to the 20-year-old pop star for sending a thirsty comment to the star during his recent Instagram Live session. After asking the star mid-session if he can juggle him, Mendes abruptly ended the fan chat. For clarity purposes, the singer was juggling lemons at the time of the stream. When an alleged diss arrived from the singer's listening party with fans, both stars decided to speak out on the debacle.
"My comments on friend's & boy's content have always been light hearted & in a joking manner," Charles tweeted. "I've been supporting @shawnmendes since vine & am a fan like anyone else, & would never want to make anyone uncomfortable. Im upset, embarrassed, and sorry if he felt sexually harassed."
Chat About Shawn Mendes' 'Treat You Better' Gets The Classroom Instruments Treatment