Watch Guy From Insane Clown Posse Try, Fail to Dropkick Fred Durst
By Andrew Magnotta
October 8, 2018
Half of Insane Clown Posse tried to dropkick Limp Bizkit frontman Fred Durst off the stage during a recent concert in Camden, New Jersey.
The other half was spared the humiliation of trying and failing to dropkick someone who has their back turned.
ICP's Shaggy 2 Dope has been identified as the man who rushed Durst during the Saturday, October 6, performance and made a feeble attempt at injuring the unsuspecting frontman by literally kicking him off the stage.
Video from the incident, which you can see above, shows Durst letting out a scream at the end of Limp Bizkit's cover of George Michael's "Faith" as a man rushes from behind, leaps and makes feet-first contact with Durst's back.
Durst, however, barely moves and turns around, puzzled, just as security covers the man.
"What a p***y," Durst says into the microphone. "Couldn't ... pull it off."
It's not clear what prompted the outburst from Shaggy 2 Dope, who's given name is Joseph William Utsler. And Durst made no indication that he recognized the would-be assailant at the time.
"It's one guy," Durst continued, speaking to the audience.
"Calm down, it's one guy. Well, it's two guys!" he added as another man began swinging at security guards. "Let's give that guy a hand. Come on."
ICP performed earlier in the day as part of the Rock Allegiance festival, which Limp Bizkit headlined.
You can see the incident from another angle in the video below.
Photo: Getty Images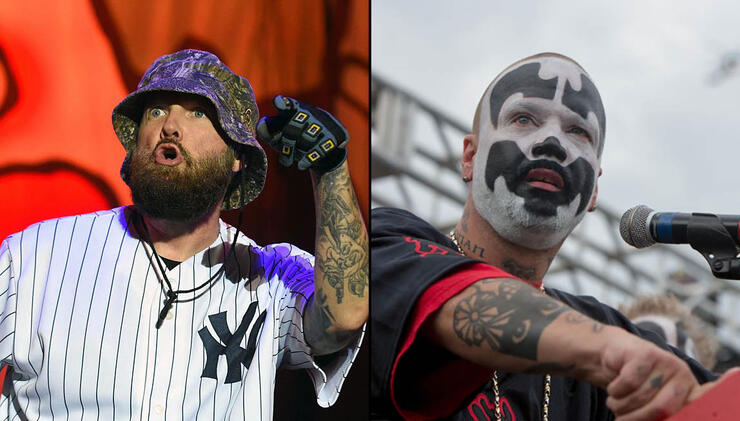 Chat About Watch Guy From Insane Clown Posse Try, Fail to Dropkick Fred Durst