Kanye West Set To Have Lunch With Donald Trump At The White House
By Peyton Blakemore
October 9, 2018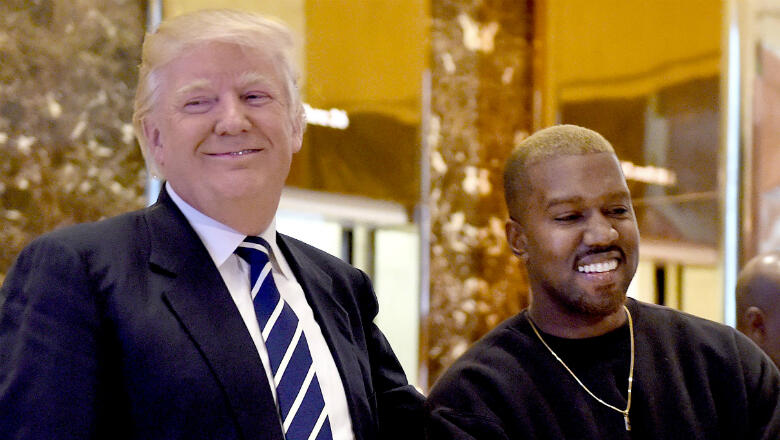 Kanye West is expected to meet with Donald Trump at the White House on Thursday (October 11), The New York Times reports. Ye will first meet with Trump's son-in-law and senior adviser, Jared Kushner, and then have lunch with the president. According to NYT, West wants to discuss the availability of job opportunities for former convicts. The "I Love It" rapper also "hopes to discuss with Mr. Trump how to increase the number of manufacturing jobs" in his hometown of Chicago.
Ye's visit to the White House comes months after his wife, Kim Kardashian, met with both Trump and Kushner to commute the life sentence of Alice Marie Johnson, an African-American woman who was given a life sentence for a first-time nonviolent drug offense.
West has long been a supporter of Trump. He was one of the first celebrities to meet with the former reality star during his transition into office. Most recently, the "All Mine" rapper came under fire for going on a pro-Trump rant during the season premiere of Saturday Night Live. "It's so many times that I talk to a white person about this, and they say, 'How could you support Trump? He's racist.' Well if I was concerned about racism, I would have moved out of America a long time ago. We don't just make our decisions off of racism. I'ma break it down to you right now: If someone inspires me and I connect with them, I don't have to believe in all they policies.," he said while wearing a Make America Great Again hat.
Trump later took to Twitter to sing West's praises, writing, "Like many, I don't watch Saturday Night Live (even though I past hosted it) - no longer funny, no talent or charm. It is just a political ad for the Dems. Word is that Kanye West, who put on a MAGA hat after the show (despite being told "no"), was great. He's leading the charge!"
Photo: Getty Images
Chat About Kanye West Set To Have Lunch With Donald Trump At The White House