Marc Anthony, Manuel Turizo & More Join iHeartRadio Fiesta Latina Lineup
By Nicole Mastrogiannis
October 10, 2018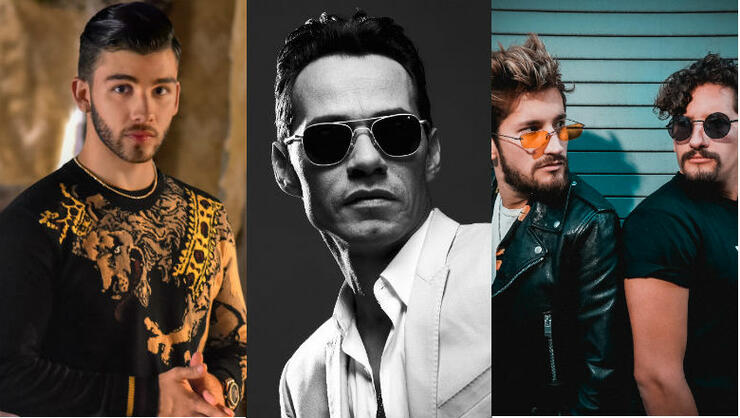 This year's iHeartRadio Fiesta Latina just got even better, because the lineup is welcoming a few more amazing Latin artists, who will take the stage in Miami at American Airlines Arena on Saturday, November 3rd.
Marc Anthony, Manuel Turizo and Mau & Ricky all join the previously announced 2018 Fiesta Latina lineup, which includes Pitbull, Nicky Jam, Steve Aoki, Farruko, Nacho, Zion & Lennox and Becky G, and it's all hosted by iHeartRadio's own Enrique Santos.
Aside from performing during the show, Marc Anthony will also be honored with the iHeartRadio Premio Corazón Latino Award, which recognizes an individual that exemplifies their big heart through their selfless work in enhancing the lives, heritage and future of the Latin community. Anthony will be given this year's award for all of his philanthropic accomplishments outside of his music and acting career. In 2012, the six-time Grammy and Latin Grammy Award winner launched the Maestro Cares Foundation, which aims to improve the quality of life of orphaned and disadvantaged children in Latin America and the United States. Anthony is being recognized for his support in hosting a series of fundraisers throughout the year to benefit the non-profit organization and to build orphanages in Latin America.
Previous recipients of this special honor include Pitbull and Ricky Martin.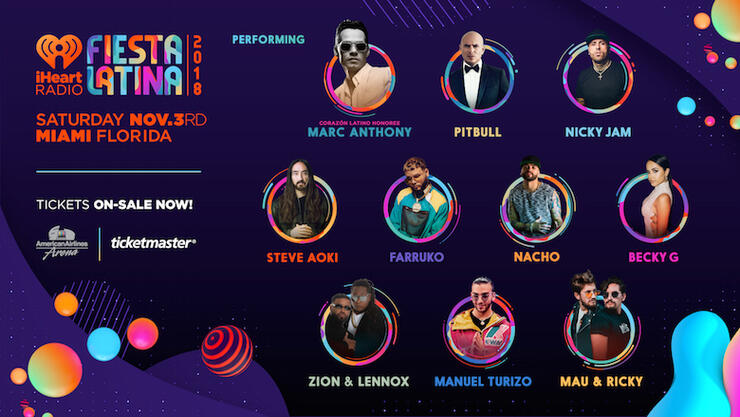 If you can't make it to Miami this year, fans across the country will be able to listen to the mega concert live, as it will be broadcast on iHeartMedia Spanish-Pop, Tropical, regional Mexican and Spanish Adult Hit radio stations nationwide.
Tickets are currently on sale to the general public and can be purchased via iHeartradio.com/fiesta.
Additionally, iHeartMedia has officially launched (as of Oct. 8) a three-week nationwide promotion to give thousands of Latin music fans across the country the opportunity to win trips to Miami to experience the 2018 iHeartRadio Fiesta Latina. So, make sure to listen to your local iHeartMedia Spanish-language station, as well as on iHeartRadio, and on additional radio stations in key markets across the country.
For more information, visit iHeartRadio.com/fiesta. See you in Miami!
Chat About Marc Anthony, Manuel Turizo & More Join iHeartRadio Fiesta Latina Lineup