Slash Admits He Loves Fender Guitars Too
By Andrew Magnotta
October 12, 2018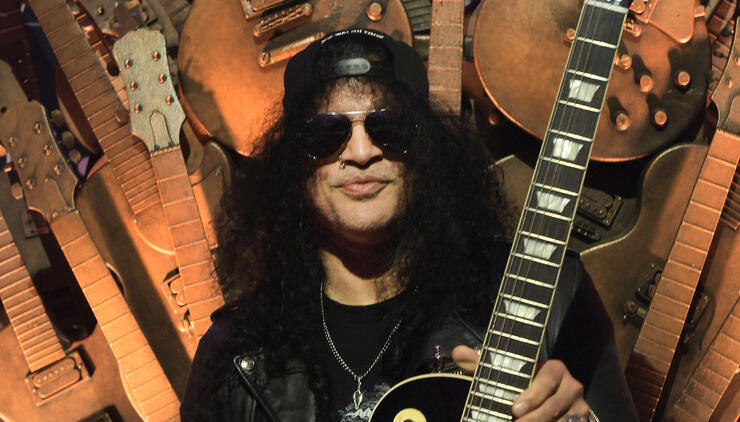 Slash may be Gibson's first Global Brand Ambassador, but he has love for the competition, too!
The iconic Guns N' Roses guitarist revealed in a recent radio interview that he, indeed, has a number of Fender Telecaster and Stratocasters guitars in his collection.
On the surface, that fact shouldn't surprise anyone. Slash counts Strat players like Jeff Beck and Jimi Hendrix among his biggest influences ... and he can afford to have a massive guitar collection.
But the Rock and Roll Hall of Famer went further into single-coil territory, outlining what it is he loves about Fender guitars.
"As far as I'm concerned, and Gibson probably wouldn't want me to say it, the Strat is — hands down — one of the best, most versatile guitars there is," Slash said.
"But I've always gravitated to a Les Paul. And there's Strat guys and there's Les Paul guys..."
There exists, as far as YouTube can tell, only one video of Slash playing a Fender guitar. The footage is supposedly taken from a break during the video shoot for "November Rain."
Slash didn't cop to ever writing any music on a Fender guitar, but he says he plays guitar all the time at home, whether he's working on something specific or not.
"When I'm at home, I'm usually creating something," he said. "But I might have something that I listened to that I'll get home and go out and see if I remember that."
Slash is on tour through the end of the month with Myles Kennedy and the Conspirators promoting his latest album, Living the Dream.
Photo: Getty Images
Chat About Slash Admits He Loves Fender Guitars Too