Police Lure Runaway Pig Back Home Using Doritos
By RJ Johnson - @rickerthewriter
October 15, 2018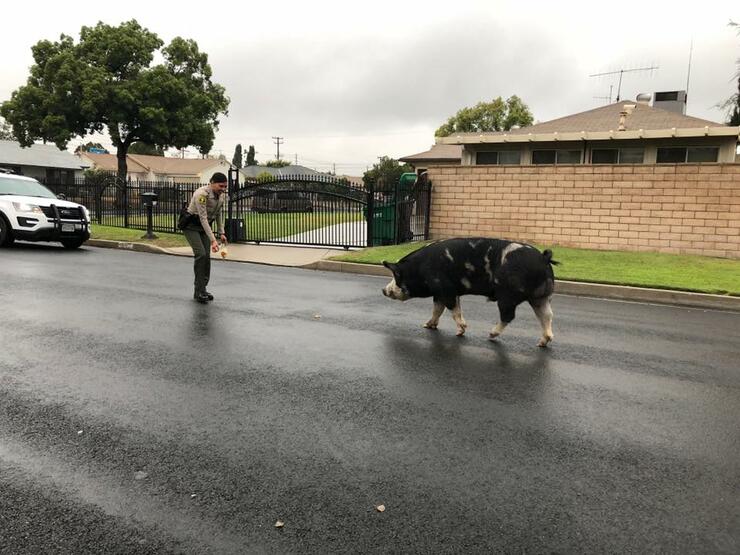 Two San Bernardino sheriff's deputies found themselves dealing with an unusual call over the weekend that ended up with one of the deputies losing their lunch - well, part of it anyway.
Deputies Ponce and Berg were dispatched from the Highland station after they received a call of a runaway pig "the size of a mini horse" roaming the streets. In a post to the San Bernardino Sheriff's Facebook page, officials say the two deputies went to the scene and quickly located the massive porcine.
With no hog callers handy, the deputies decided to try luring the pig back home using some Doritos one of the deputies had brought along for lunch that day. Ponce and Berg used the crunchy corn chips to make a trail all the way back to the pig's home, which he happily followed (all while snacking on the Doritos).
The sheriff's deputies say they knew exactly where to take the wandering porcine because they had encountered him before on previous calls.
"We were able to put him back in and secure the gate. It was fun!" Deputy Ponce said.
"Crime fighting to safely securing a mini horse size pig, we do it all!" the San Bernardino Sheriff's station's Facebook post read.
Photo: San Bernardino Sheriff's Office
Chat About Police Lure Runaway Pig Back Home Using Doritos