Kylie Jenner Calls Travis Scott Her 'Hubby,' Sparks Marriage Rumors
By Peyton Blakemore
October 16, 2018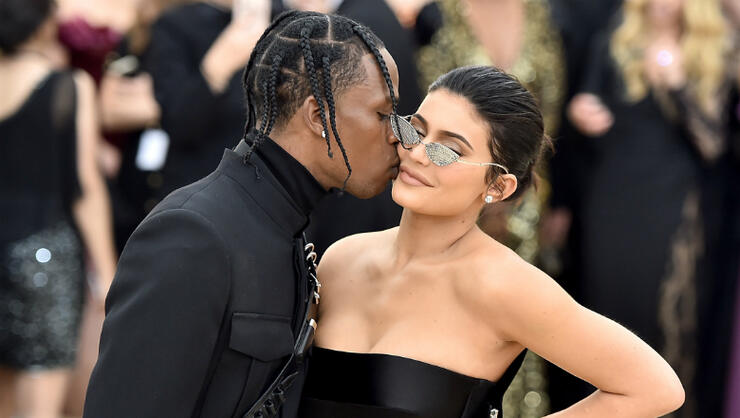 Why follow the norm and call your boyfriend "babe" or "hun" (or really anything else) when you can just skip a few steps and call him hubby? Right, Kylie Jenner!
The beauty mogul sent her fans into complete hysteria when she referred to her boyfriend Travis Scott as "hubby" (for the second time this month) after he gifted her an elaborate array of pink and white flowers. "Just because flowers are the best kind," she captioned a video of he showing the over the top gift. "Thank u hubby."
Fans immediately began to speculate that the couple may have secretly tied the knot. "'Hubby?? Married & we don't know it yet ?!?!?," one fan commented. Another wrote: "oh nice i guess she's married 'hubby'."
This isn't the first time Kylie's had people questioning the status of her relationship. Earlier this month, the Keeping Up With the Kardashians star captioned a video of Travis performing on Saturday Night Live "hubby" with heart emojis. At the time, a source told People Kylie's use of "hubby" was nothing more than an affectionate nickname. "Kylie is very happy with Travis, but they aren't married," the insider said. "There has been some talk about marriage, but it doesn't seem they are planning a wedding."
For what it's worth, Travis calls Kylie "wifey." He used the nickname in a post for her 21st birthday back in August. "Happy bday wifey I love u mommy u my heart rib toes and all," he wrote. "May GOD continue to bless u and ur spirit. This mark in ur life is the start to more greatness."
While marriage might not be on the table for the couple right now, a second baby might be. Just last week, Us Weekly reported that Kylie and Travis are "actively trying" for baby number two.
Chat About Kylie Jenner Calls Travis Scott Her 'Hubby,' Sparks Marriage Rumors