Paul McCartney Talks 'Egypt Station' Success, The Beatles' Rumored Disputes
By Paris Close
October 16, 2018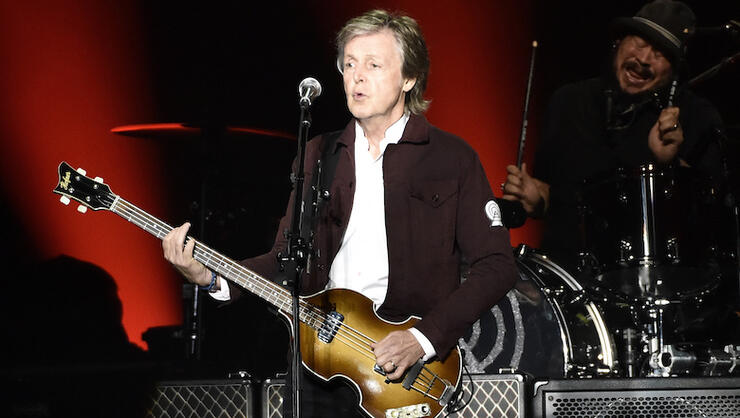 Paul McCartney has 2018 in the palm of his hands. The Beatles icon signaled his comeback with his first full-length in five years, Egypt Station, which debuted at No. 1 on the Billboard 200 chart upon its arrival back in September. The living legend took some time off from his "Freshen Up Tour" for our fourth episode of Inside the Studio, in which Sir Paul spoke with us about the success of his eighteenth record, those alleged Beatles arguments, and more lesser-known aspects of the band's dynamic.
On how he celebrated Egypt Station reaching number one:
Well, you know, the great thing was after the show sometimes if the guys don't have to load out, if they're all in a place and we're gonna play the place tomorrow, which was that occasion, I'll say, 'Okay, let's all get together and have a little drink, have something to eat,' and we get the crowd in so we all get to hang with each other, because it's a bit like a family, your tour family. So we all get together and then our DJ who comes with us on the tour, he'll DJ some nice dance music and stuff … and then suddenly that afternoon right after soundcheck on my phone I get the message, 'Bang, congratulations. Record's gone to number one.' I go, 'Ah.' And I'm just about to go to the dressing room. I stop and go, 'Oh, oh, wait a minute, hey guys.' I announce to everyone, 'We're number one.'

So that party that evening, that was special, because we had a real great reason to celebrate. … We danced the night away, baby.
When asked if it was true the Beatles' forthcoming 50th-anniversary box set of the White Album would reveal the band's inner conflicts, McCartney responded:
You know, the thing is, because it was towards the end of the Beatles, all the forces that were later gonna break the Beatles up ... which is mainly business, to tell you the truth ... there was a lot of arguing about business, and we didn't like that. We'd always traditionally just left that to someone else, but it got a bit dangerous to do that, and that someone else ... who was a different someone else, actually ... was about to nick it all …

It was a guy called Allen Klein, yeah. You know, it got dangerous. There was an idea that he was maybe going to take over, and take over all the money and all the stuff that we'd ever done, and that made it a difficult period.
He further enlightened on the group's long-rumored disputes:
You know, we always got in the studio, and even if we were arguing, that kind of got superseded by the music. … You know, we argued like families argue. I mean, in the early days it was always John and George arguing about who would have his amp the loudest. They'd agree, 'Okay, look, now we're gonna ... you know, let's put it at seven,' okay, and they put it at seven, and then we'd be playing and you'd just see George kind of back towards his amp and go, 'Nine?' Then John'd notice, so he'd quietly sneak towards his amp, 'Ten,' you know. Then now we've got, 'Hey, what are you doing?' That might cause a bit of an argument, but other than that, you know, when we played music, it came good.
As iHeartRadio wraps up yet another exciting installment of Inside the Studio, be on the lookout for more from Sir Paul, whose next tour stop will be at Tokyo Dome in Japan this Halloween. Additionally, next year, the 76-year-old musician is expected to author his first-ever children's picture book called Hey Grandude!
Hear our full podcast interview with Paul McCartney here.
Photo: Getty Images
Chat About Paul McCartney Talks 'Egypt Station' Success, The Beatles' Rumored Disputes