Deep Purple's Roger Glover Is 'Dreading' Retirement
By Andrew Magnotta
October 17, 2018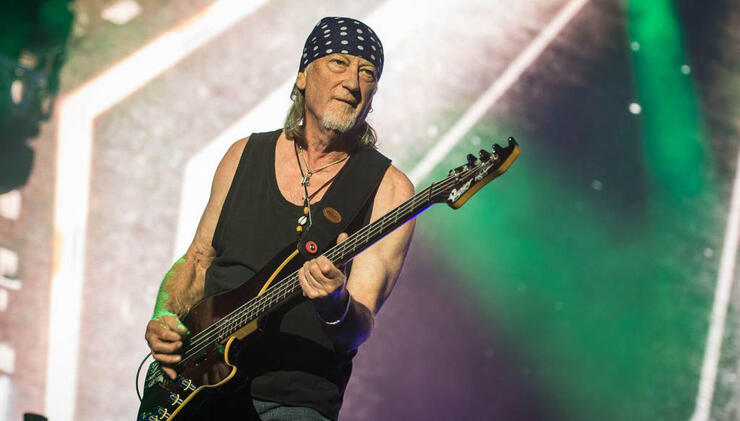 The farewell tour has become a cliché in music because so few rock 'n' roll retirements seem to stick.
Deep Purple bassist Roger Glover is one of several classic rockers currently staring at retirement, as his band continues its Long Goodbye tour through November.
But it's hard to say you'll never again do something you love; the Rock and Roll Hall of Famer Glover is making it known that he's unsure of how to handle whatever comes next.
"Deep Purple has been such a presence in our lives for 50 years that none of us want it to end," he told Music Radar in a new interview. "But the realization is there that sooner or later we are going to have to stop. I'd love to go on and make another album. Emotionally, we're not ready to stop, so we could carry on for another four or five years."
One factor in the band's decision to call it a career was the death of keyboardist Jon Lord in 2012. A founding member of Deep Purple, Lord was one of the architects of the band's sound. With their health not improving with age, the band announced it was winding down its career in 2017 with The Long Goodbye.
Glover says it's still unclear when the band actually will play its final show. He's sure that once it's done, he'll stay as close to music as possible.
"Well, I know I'll always be involved in music, as a writer and as a producer," he said. "To be honest, I'm dreading life without Deep Purple. I'm not looking forward to it at all. This has been my working life; I've never had a job. We don't have a final time to stop in mind. I don't know how much time I'll have after the band, but I'll carry on being creative."
Guitarist Steve Morse says he's looking forward to getting away the road for the first time in decades, but he said he might be the only one. Earlier this year, he expressed skepticism that Glover, Deep Purple drummer Ian Paice and front man Ian Gillian would truly stop touring.
With so much of his future up in the air, Glover said one project he knows he'll spend next year on will be his autobiography, which has been in progress for a number of years already.
"It's not easy, because I didn't want a ghostwriter, but I enjoy good writing, and it's a pleasure to write," he said. "It's hard to look back and capture who I was years ago. I look at videos of myself playing and I think, 'Who is that person?'"
Deep Purple's Long Goodbye tour began in May of 2017. The band's last album, InFinite, was released in April of '17.
See Deep Purple's remaining tour dates here.
Photo: Getty Images
Chat About Deep Purple's Roger Glover Is 'Dreading' Retirement