Meghan Markle Baked Banana Bread For Everyone On Australian Tour
By Emily Lee
October 17, 2018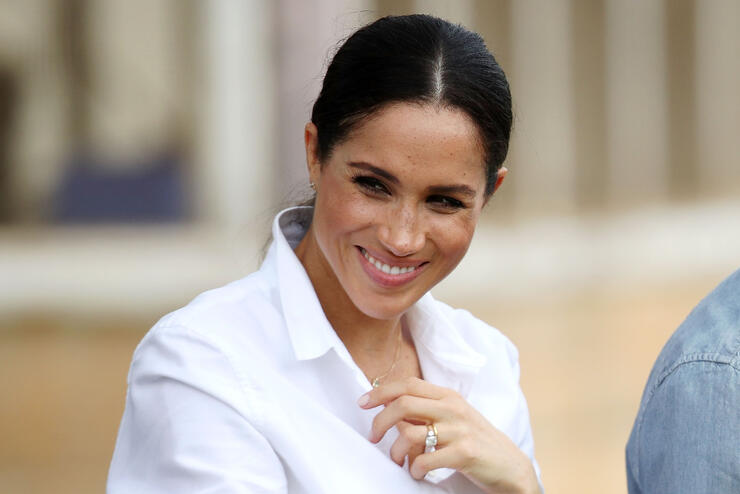 Meghan Markle is officially the best Duchess ever. During a stop on her first official royal tour, Meghan brought banana bread that she personally baked for a farming family in Dubbo, Australia. The Duchess of Sussex reportedly decided to bake the delicious treat the night before in the kitchen of Admiralty House in Sydney after her first day of royal engagements. Nothing like a spot of baking in the middle of the night when you're jet-lagged and pregnant to help soothe you to sleep.
This wasn't just any old banana bread recipe, either. Meghan brought her baking A game to her first official royal tour as she added chocolate chips and a "bit of ginger," according to the Daily Mail's Royal Correspondent Rebecca English. She also shared that the banana bread was "rather nice."
Meghan is a longtime fan of cooking and baking. Before shutting down her lifestyle site The Tig, the Duchess often shared recipes she loved with her readers. One of those was a "life-changing banana bread recipe," which included some surprising ingredients such as sunflower seeds, almonds, hazelnuts, and maple syrup. Though it's a little different than the recipe she used in Australia, it's clear Meghan does not mess around when it comes baking.
Once word spread that the Duchess took the time to bake bread and bring a tin of Fortnum & Mason Royal Blend tea for everyone at the Dubbo tour stop, a number of hilarious and heartwarming tweets started pouring in.
It's the end of day 1 Oz #RoyalTour, you're pregnant and feeing a bit tired. Whatcha do? Bake some banana cake for today's tea with the Woodley Family in Dubbo! #meghan brought her homemade cake baked in Admiralty House's kitchen & 'Royal Blend' Fortum & Mason tea. #yumyum pic.twitter.com/tF2FJM1ZeF

— Emily Andrews (@byEmilyAndrews) October 17, 2018
"Meghan is pregnant, she has 76 engagements in 16 days and she still has time bake this banana bread. Wow," one user wrote.
"She carries her own coat, she bakes banana bread, she holds the umbrella for her man...Meghan Markle, we are not worthy," Julia Naughton tweeted.
Meghan really is the Duchess who can do it all! Who else can't wait to see what else this Australian tour brings for our favorite American Princess?
Photo: Getty
Chat About Meghan Markle Baked Banana Bread For Everyone On Australian Tour