Kim Kardashian Is Now 'Grateful' For The Paris Robbery
By Emily Lee
October 22, 2018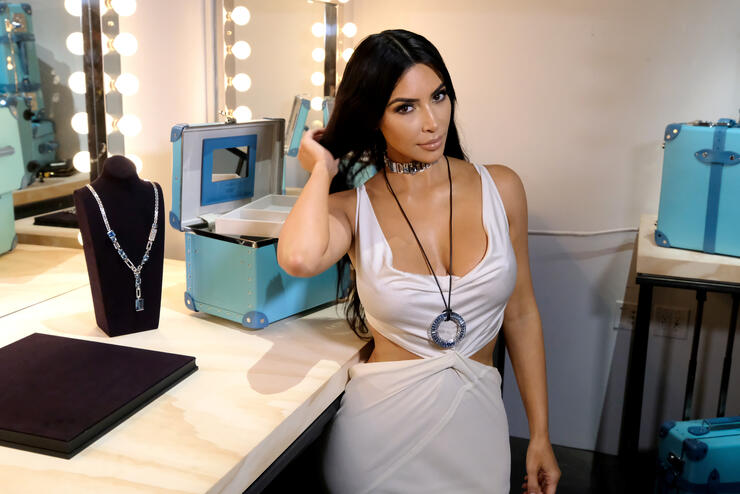 During an appearance on The Alec Baldwin Show, Kim Kardashian got candid about being robbed at gunpoint in Paris two years ago. Though Kim has spoken about the terrifying incident before, the 38-year-old reality star discussed how the robbery profoundly changed her with Alec Baldwin.
"My life has definitely changed a lot in the last two years from that experience," Kim explained. In the year following the harrowing experience, Kim told Baldwin she "almost lost" herself. "I was never depressed, but I wasn't motivated to get up and work like I used to. It shook me," she said.
It was her mom, Kris Jenner, who ultimately helped Kim out of the dark place she found herself in. "I was literally – my mom had to come over and say, 'Will you get out of bed? Will you put on something else other than sweats? Put on a little bit of makeup, feel like yourself again,'" Kim said.
Kim even opened up about the guilt she felt after the robbery, as well, saying there were times she felt like it was her fault. "I'm totally a realist. So I know, you post on social media your locations, your jewelry, your bags, what you're doing, where you're going, your cars, your stuff. I would always talk about my stuff," she said. "There was a lot of me that measured who I was by how much I had."
After the robbery, though, Kim took a step back and examined her life. She said: "I thought, 'Oh, I'm worth so much.' So that changed in me. And, that needed to change in me, so I'm grateful for the experience." She went to say that: "Even though it was horrific, and I wouldn't wish it upon anyone, it really did deeply change me to where now I feel like I can get back to myself, I can put on makeup and heal."
Kim's life changed in other ways, too. She's now much concerned about her safety, as well as the safety of her loved ones. "I was so scared for anyone to know where I was. Like, if I went to a restaurant, I thought, 'OK, they're gonna post a photo of me online, know that I'm at this restaurant, know that my home's open and that they can go and maybe rob my home or rob this or know I'm here,'" Kim said. "I always had that thought in my mind of just danger," she explained. "I never thought about anything scary before, until then. I felt like I was living in a bubble, and that opened me up to so much."
"Now my life is six security [guards] outside of our house at all times, and a few security when I travel, always 24/7 outside my door," Kim said. "I just move totally differently now."
Perhaps the most dramatic change for the woman who helped shape reality television as we know it over the past decade is that, "All I want is privacy. I never thought that I would be at that point," she said.
Photo: Getty
Chat About Kim Kardashian Is Now 'Grateful' For The Paris Robbery