Wiz Khalifa & Winnie Harlow Confirm Relationship, Go Instagram Official
By Peyton Blakemore
October 22, 2018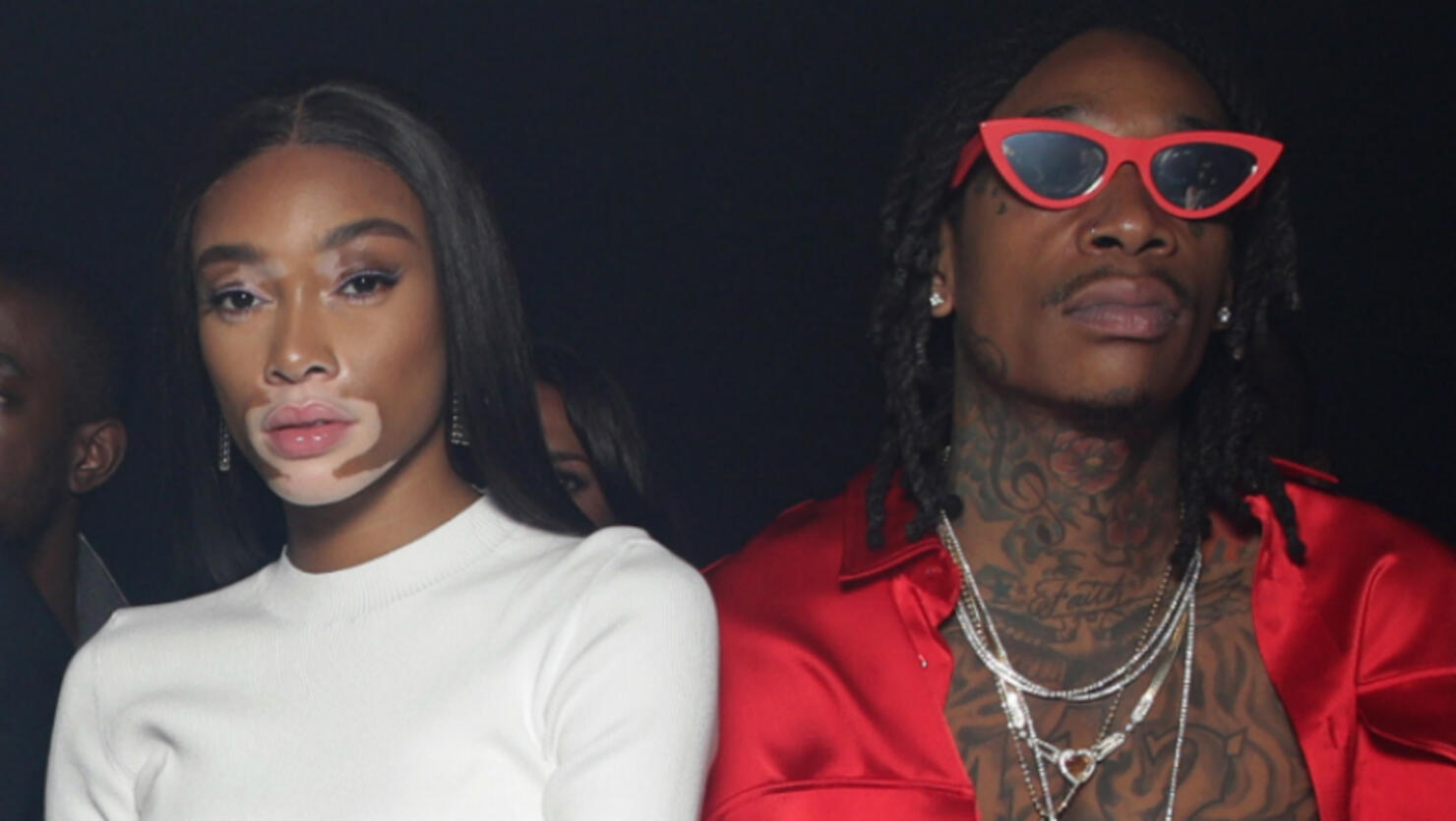 It's official — Winnie Harlow and Wiz Khalifa are an item!
Over the weekend, the couple took their relationship public after months of dating speculation. The Candian model and "See You Again" rapper were spotted holding hands while leaving the Staples Center in Los Angeles on Saturday (October 20), following the Lakers' loss to the Rockets.
The two later shared the photos of their night out on Instagram. "F is for... Fr Fr 💜🐉," Winnie captioned the cute photo of the two. Wiz also shared the same pic, writing, "ME: U GRAB THEM TWO JOINTS I ROLLED🤔🙏🏽💨⛽️ HER: YEA YUP😩💜👅🤗🙌🏽💍."
Back in August, the then-rumored couple sent dating rumors into overdrive when Wiz was photographed rocking Winnie's nameplate necklace weeks after Winnie wore Wiz's chain on her Instagram Story. Adding more fuel to the dating rumors, the 30-year-old rapper also posted a photo of him and the 23-year-old model with the caption, "❤️Wiz & Winnie❤️." The picture even got Wiz's ex, Amber Rose, thinking the two were a couple as she commented, "@winnieharlow as Sebastian's Stepmom??? ... Litaf."
However, Wiz shot down dating rumors a week later during an interview with The Breakfast Club. "You got a new boo, it looks like?" host Angela Yee asked. "No, nope," Wiz responded. "So Winnie's not your girlfriend?" Angela pressed, to which he said, "That's my homegirl, she's super sweet."
"Because Amber cosigned it," Angela replied, before Wiz added, "Yeah, and I told Amber, 'Don't be doing that yo'... I took a picture with Winnie and she was like [to her], 'Oh you're Sebastian's stepmom'. I was like, 'No, don't do that'."
The Wiz-Winnie data saga continued a few days later when he appeared to backtrack on his previous comments by posting another intimate photo of the two. Wiz captioned a picture of Winnie sitting on his lap at his Rolling Papers 2 album release party, "ME: 'YOU CARE WHAT ANYONE THINKS🤔'HER: 'NAW NOPE 😝‼️ WINNIE & WIZ❤️."
Photo: Getty Images