Nicki Minaj Sued By Tracy Chapman Over 'Baby Can I Hold You' Sample
By Hayden Brooks
October 23, 2018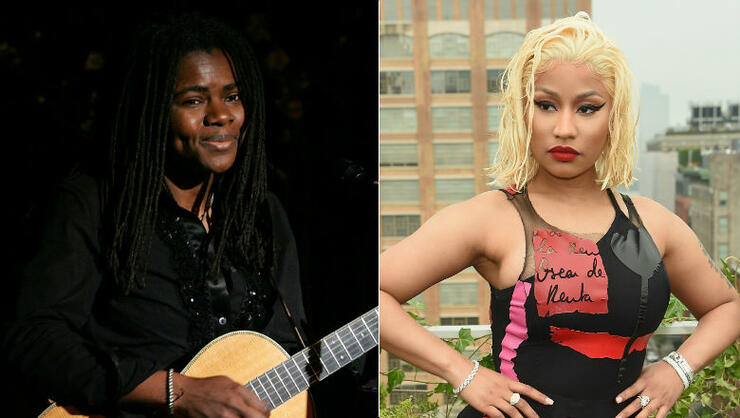 Nicki Minaj's rollout for her latest album, Queen, wasn't a smooth one, and one of the reasons for the hip-hop heavyweight's rocky release has come back to bite her.
On Tuesday (October 22), TMZ reported that Tracy Chapman is suing the Young Money MC for using the melody and "half the lyrics" of her song "Baby Can I Hold You" for the unreleased Queen cut, "Sorry," featuring Nas. As per the celebrity gossip outlet, the lawsuit claims that Funkmaster Flex and Charlamagne Tha God both played the track for their radio listeners even though Chapman had not given Minaj permission to use the sample. Team Chapman said that the rapper and her reps made multiple requests to license the song in June 2018, but they were all rejected.
Fast forward to early August, Minaj took to Twitter to call on her Barbz to reach out to Chapman about the sample. "So there's a record on #Queen that features 1of the greatest rappers of all time," Minaj tweeted on August 1. "Had no clue it sampled the legend #TracyChapman – do I keep my date & lose the record? Or do I lose the record & keep my date?…Tracy Chapman, can you please hit me. ‍omg for the love of #Queen."
After Chapman denied the requests, Team Minaj pulled the song from her album and tried to pull it down from the blogosphere but the damage was already done. Chapman is currently seeking damages and prohibiting Nicki and her team from releasing the song again.
Chat About Nicki Minaj Sued By Tracy Chapman Over 'Baby Can I Hold You' Sample