Post Malone Spent Over $40K On Postmates This Year, Here's How He Did It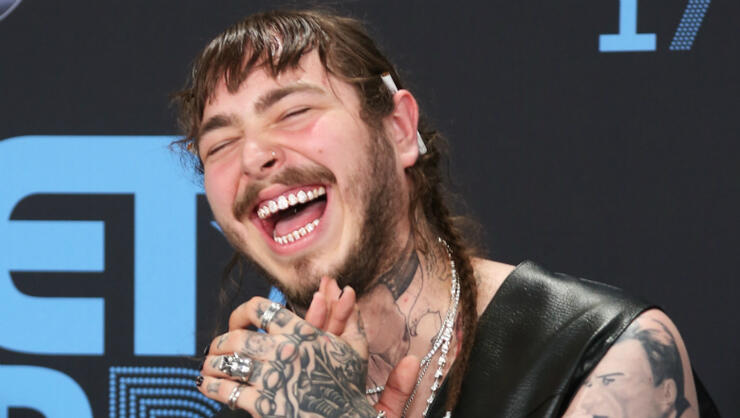 Post Malone is Postmates' number one customer (and it's not just because of their eerily similar names). 
The "Ball For Me" rapper has somehow managed to drop over $40,000 this year alone using the OG delivery app. (To note, there are still two more months in the year) According to Postmates' records (yes, they keep those receipts), Post has ordered nearly 3,000 total items, on more than 660 orders, in 52 different cities nationwide — and that's without using an oh-so-coveted (but oh-so-hard to acquire) Postmates promo code.
So, you must be wondering how does one order that much, that often? Well, after going through Post's order history, I can honestly say, he did it pretty easily. One time he dropped a whopping $8,000 on Popeyes biscuits (that's a total of 10,000 biscuits) for a Coachella party. He once used Postmates to supply one of his many ragers in 2018, ordering upwards of $1,000 worth of party supplies, which included red cups, Tito's Vodka, ice, drink garnishes and paper towels (you know, the essentials). And when he wasn't blowing stacks on parties, he dropped serious cash on random, but totally relatable, items like buffalo sauce — he once spent $100 on the hot wings essential in one order alone. 
And when Post's not dropping $40K on random items on Postmates, he's tipping his Postmates drivers with his unreleased music. Yes, you read that right. Back in April, Post tipped one of his Postmate carriers his unreleased CD.
As for Post's favorite places to order from, well, he likes to keep it pretty simple with the run-of-mill fast food joints, including: Chick-fil-A, KFC, Popeyes, Burger King, and Panda Express. But, he does mix it up from time to time, ordering from Petco, Game Stop, CVS, Pinkdot (it's actually the place he orders from the most), and Ralph's. 
And for kicks and giggles, here are some of Post's special Postmates requests, straight from the delivery service:
Target: "The most expensive chess board they have!" Panda express: "SOOOO much teriyaki sauce on the side please! And lots of soy sauce!" Chick-fil-A: "Largest nugget tray they have." Raising Cane's: "Open boxes a little so it doesn't get soggy please!"
It's worth noting, Post still has a jam-packed year ahead of him (his music festival Posty Fest is later this month, and he's bringing in the New Year with a concert at the Barclays Center in New York City), which means there's still more time, and plenty of opportunities for him to drop stacks on Postmates. WHAT A LIFE!
Photo: Getty Images
Chat About Post Malone Spent Over $40K On Postmates This Year, Here's How He Did It