Khloe Kardashian Is "Over" Tristan Thompson, Says Source
By Emily Lee
October 24, 2018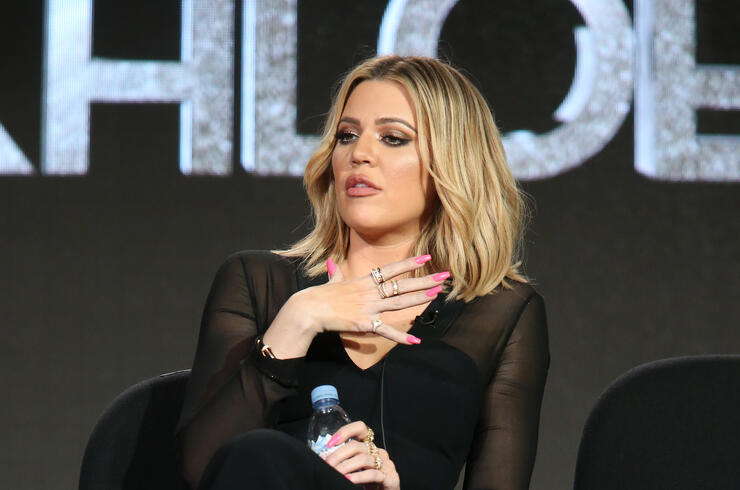 Just call her Miss Movin' On.
Khloe Kardashian reportedly "seems very much over" her baby daddy Tristan Thompson, according to a People source. Though the new parents looked like they were working things out after in the months after Tristan's cheating came to light, it seems Khloe might be ready to call it quits. "Not sure how they went from fine to being apart for weeks, but Khloe is doing great," the source said.
Rumors started swirling that there was trouble brewing for the couple after Tristan moved back to Ohio for the start of the Cleveland Cavaliers season without Khloe and their six-month-old daughter True Thompson. Khloe doesn't have plans to join Tristan, either. She's just fine keeping True in L.A. right now.
"It doesn't seem to bother her that she isn't with Tristan in Cleveland," the source revealed. "She seems to know what she wants in her life right now. And it definitely doesn't seem like she wants to be with Tristan."
Though all signs are pointing towards splitsville, "Khloe isn't saying that she and Tristan split. It seems she hasn't decided yet what she wants to do about their relationship," a different source revealed to People just last week. "And she seems fine about this. Her family is happy that she is still in L.A. and wants her around for as long as possible," the source continued. "No one is pushing for her to go back to Cleveland to be with Tristan. This will be her decision to make."
Right now, Khloe is focusing on being the best mother she can be to baby True. "It's amazing to see what a great mom she is and how much she enjoys it. She is very much just focused on the happy things in her life. True, of course, makes her the happiest," People's source said.
The dissolution of any relationship is difficult, though things get even more complicated when children are involved. Hopefully, Tristan and Khloe are able to figure out what the best thing is for their family.
Photo: Getty
Chat About Khloe Kardashian Is "Over" Tristan Thompson, Says Source