BTS' First Full-Length English Song With Steve Aoki Has Arrived
By Hayden Brooks
October 25, 2018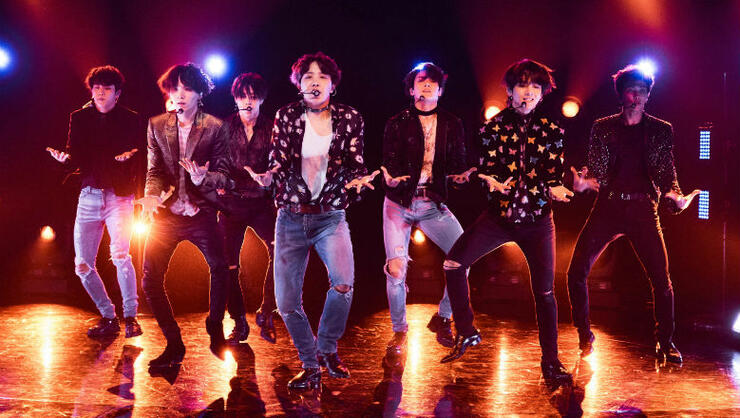 BTS has teamed up with Steve Aoki for another collaboration called "Waste It On Me" and the track stands out from their other team-ups as it's their first song that is entirely in English.
On Thursday (October 25), the EDM heavyweight unveiled the mid-tempo track, which was released alongside a colorful lyric video. "Waste It On Me" hears Jungkook kick off the track singing about the hesitation around love. "You say love is messed up/ You say that it don't work/ You don't wanna try, no, no/ And baby, I'm a stranger To heartbreak and the pain, of/ Always being let go," he sings. It then proceeds into the pre-hook, courtesy of Jungkook and RM, before transitioning into a repetitive chorus that brings the track to new heights with horn-like effects. The song is set to be part of Aoki's Neon Future III, which drops November 9.
"We're happy for this meaningful and heartfelt collaboration," BTS said in a statement. "The song is just so amazing, we really enjoyed working on it. It's our first song that is entirely in English. It was refreshing and fun to record the song. We hope this would be a good present for our fans."
Meanwhile, Aoki gushed about his experience working with the K-pop phenomenon on the track, which follows previous collabs "Mic Drop (Remix)" featuring Desiigner and "The Truth Untold." "I'm so psyched to share this collaboration with one of the most exciting and inspiring group of guys I've met in the past few years," said Aoki in a statement. "It's an absolute honor to work with them once again on 'Waste It On Me.' I can't wait for my fans to hear what's in store for them next on this third installment of Neon Future."
Chat About BTS' First Full-Length English Song With Steve Aoki Has Arrived