'Modern Family' Killed Off A Major Character During The Halloween Episode
By Emily Lee
October 25, 2018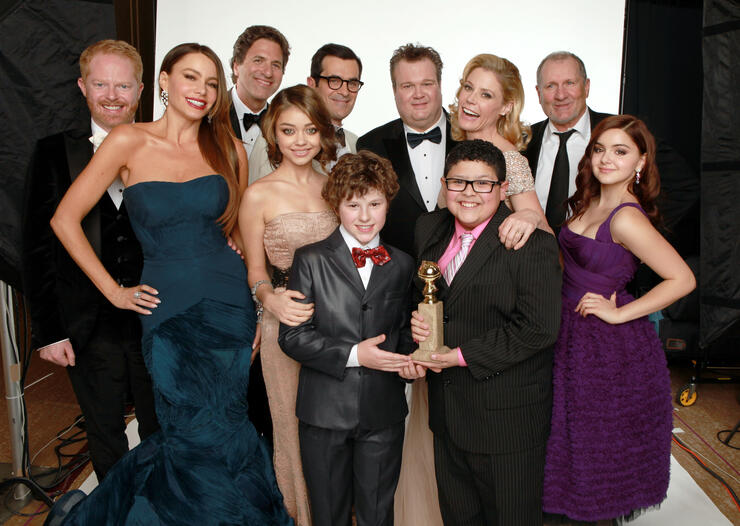 This article contains spoilers for season 10 of Modern Family. Keep reading at your own risk!
Well, it finally happened. After teasing that a major character would die during season ten of the hit ABC sitcom, Modern Family finally revealed who passed away during the Halloween episode on Wednesday (Oct. 25).
"We're handling some bigger life events in this season," co-creator Christopher Lloyd teased ahead of season ten. "We do deal with a death, which is certainly a topic that families have to deal with, and on television, it's not easy to do because that's a heavy subject. But at the same time, it would seem unusual for a family not to go through it."
So, who was it? DeDe Pritchett, played be Shelley long, is the major character Modern Family killed off. DeDe is, of course, Claire and Mitchell's mother, as well as Jay's ex-wife. Claire and Mitchell find out their mother passed away peacefully in her sleep while on a trip with her women's group at the beginning of the episode. The rest of the episode shows how all the characters react to the news.
Co-creator and co-showrunner Steve Levitan told The Hollywood Reporter why they decided to include a character death in the season's Halloween episode. "That's what happens with death: It comes at very strange and bizarre moments and can strike at any time. By setting this during Halloween, we could find some comedy on such a sad day."
Some Modern Family fans were frustrated with the reveal that it was DeDe who passed away after the cast and crew teased a "major" character death. "Is this how actors on Game of Thrones and The Walking Dead feel?!?!" Sarah Hyland tweeted a few weeks ago.
After the episode aired, though, fans took to Twitter to air their grievances. One wrote, "when I think of a significant death, I always think of the person who's been in seven episodes in 10 years."
when I think of a significant death, I always think of the person whos been in seven episodes in 10 years.#ModernFamily

— Guy Smiley (@GuySmiley11) October 25, 2018
Others, though, were deeply moved by the episode. Though Dede wasn't part of the main cast, she was still Mitchell and Claire's mother, after all.
What did you think of the episode? Will you miss DeDe?
Photo: Getty
Chat About 'Modern Family' Killed Off A Major Character During The Halloween Episode